Amazon profits plunge ending Bezos's brief time as world's richest man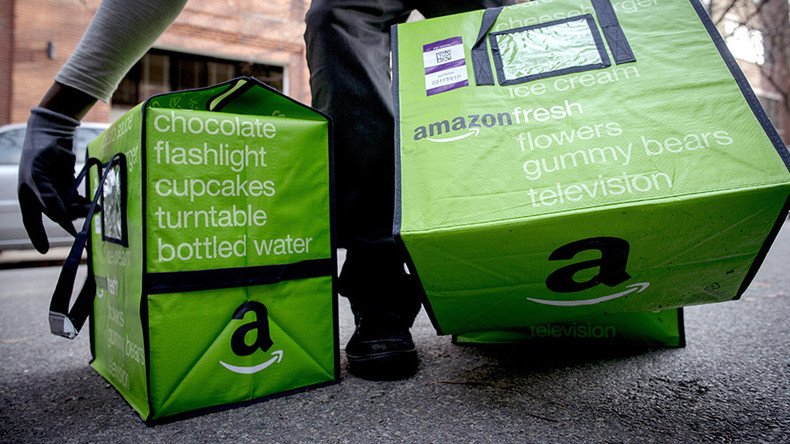 The world's largest online retailer Amazon has reported a sharp fall in quarterly profits as the firm spent lavishly on extending its products and services globally.
The Seattle-based company earned $197 million in the three months to the end of June, marking a plunge of 77 percent year-on-year. Amazon expects to lose up to $400 million in operating profit during the current quarter.
The steep decline was reportedly caused by Amazon's rapidly decreased investment into new shopping categories, including video, as well as into global expansion. The company is trying to push into new markets, such as India.
The e-commerce giant also revealed new versions of its tablet and home robot and announced movies and television shows.
Last month, in an attempt to expand into physical stores and the business of food, Amazon unveiled plans to buy leading US organic food grocer Whole Foods Market for a whopping $13.7 billion.
At the same time, quarterly revenue grew 25 percent to $38 billion, while analysts expected Amazon to earn $37.2 billion.
Amazon's shares, which were up 40 percent this year, dropped 3.2 percent to $1,012.68 in after-hours trading. The retailer had earned 40 cents per share instead of $1.42 as analysts polled by Reuters had expected.
"Q3 is generally a high investment period. Our video content spend will continue to grow, both sequentially and quarter over quarter," said Chief Financial Officer Brian Olsavsky as quoted by the agency.
The company also launched $99-a-year Amazon Prime service providing customers with discounted deliveries and video and music streaming. Subscription sales including Prime fees rose 51 percent in the second quarter to $2.2 billion
"The fact that they are investing on so many fronts right now just speaks to the opportunity that they have before them. We are giving them the benefit of the doubt here because they have executed so well historically," said Josh Olson, an analyst at Edward Jones Investments, as cited by Reuters.
READ MORE: Amazon's antitrust issue comes under scrutiny in DC & beyond
For a brief time, Amazon chief Jeff Bezos became the world's richest person. However, after the Thursday stock drop, he fell back to second place behind Microsoft founder Bill Gates