French tobacconists protest govt plan to raise cigarette prices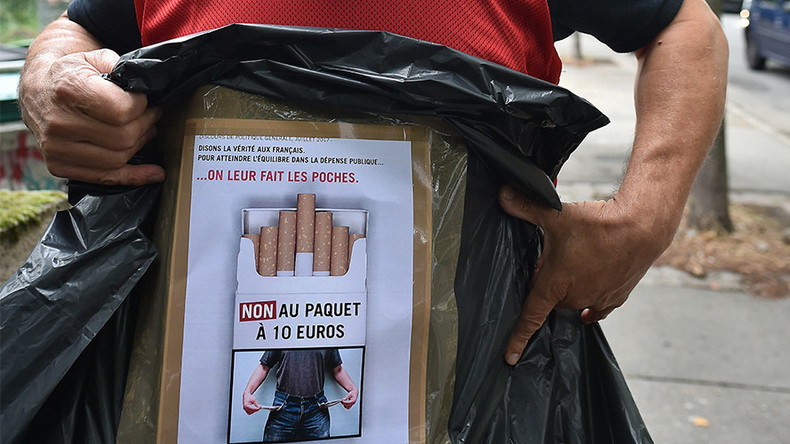 Cigarette sellers in France took to the streets on Thursday to attack the government's policy to gradually increase the price of a packet of cigarettes from €7 to €10 over the next three years.
Claiming the measures will ruin their business and won't even reduce smoking, they covered speed cameras with plastic bags in the southern city of Toulouse, the northern region of Picardy and Bearn near the Pyrenees, as well as other parts of France.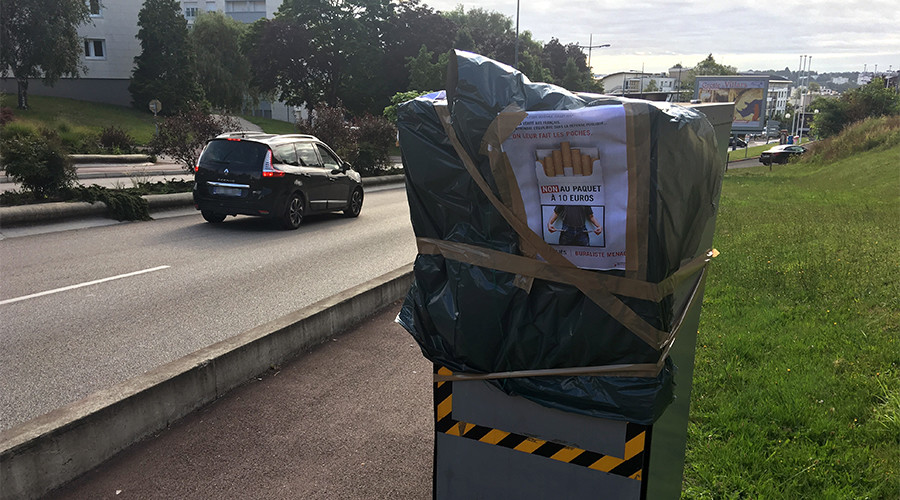 Some of them covered their faces with masks showing the face of French President Emmanuel Macron or Health Minister Agnes Buzyn.
In Toulouse protesters put up posters saying, "No to the €10 packet, clients deprived, cigarette sellers threatened," and rolled out a banner saying "Getting rid of tobacco vendors will not cut down on smoking."
"This product is dangerous, but every government fights against this scourge by raising prices - there aren't enough preventative measures focused on young people," the president of the federation of cigarette sellers in the area of Occitanie near the Spanish border, Gerard Vidal was cited as saying by Local France.
Vidal called for a real "plan of action in the fight against the black market cross-border sales and on the internet."
READ MORE: No butts about it: Cigarettes account for over one-quarter of all cancer deaths
The French Health Minister Agnes Buzyn announced plans to raise the price of cigarettes earlier this month, saying her aim is "for the children born today to be France's first generation of non-smokers."
According to France's Prime Minister Edouard Philippe, with 80,000 tobacco-related deaths in France each year, "doing nothing is not an option."
The price of a pack of cigarettes in France is among the highest in Europe, although Ireland and the UK have higher prices.
Statistics showed in March the French bought four million packets of cigarettes, over four percent more than during the same period last year.
The confederation of cigarette sellers met with Buzyn on Wednesday to announce the "rising worry" in the profession.
British American Tobacco France has already estimated its lost revenue will reach €2.7 billion by 2020.