EU challenges WTO ruling on Boeing state aid dispute
The European Union (EU) has appealed against a recent World Trade Organization (WTO) ruling made in favor of the US over its subsidies for aerospace giant Boeing.
"On June, 29 the European Union filed an appeal regarding the panel report," said the trade body in a short statement.
Earlier this month, a WTO dispute panel ruled the US had dealt with all but one of the instances of illegal subsidies to Boeing. However, the company's European rival Airbus insists the US keeps offering illegal support.
Read more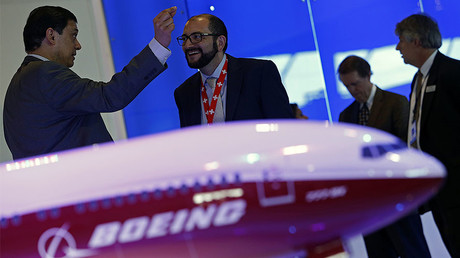 The EU appeal is the latest step in the 13-year clash between the two titans of the civil aircraft sector.
In 2012, the WTO found that billions of dollars of federal aid to Boeing were illegal and notified the US to drop the programs.
However, the EU filed a new complaint just a few months later, claiming the administration was not complying with that order.
On June 9, the WTO's dispute panel agreed the US authorities had not taken "appropriate steps to remove the adverse effects or withdraw the subsidy."
The trade body said Washington had continued to provide Boeing with illegal support in the form of tax cuts totaling $325 million between 2013 and 2015.
At the same time, the panel rejected most of the EU complaint, saying Brussels could not prove the US subsidies after 2012 were harming the bloc's interests via lost sales and price cuts.
READ MORE: Boeing received over $5.3 billion in banned US subsidies
Both sides claimed the panel's June findings as a victory, with the US also planning to appeal the June 9 ruling.
The WTO has also reprimanded the European authorities over billions in illegal subsidies provided to Airbus.
In September, the panel said Brussels hadn't complied with a 2011 ruling to withdraw several support and subsidy programs for Airbus.
The trade body didn't give an estimate for the programs, but Boeing claims they amounted to $22 billion worth of illegal support for Airbus development and sales.