Boeing becomes latest casualty of EU-US trade spat
Published time: 29 Nov, 2016 10:44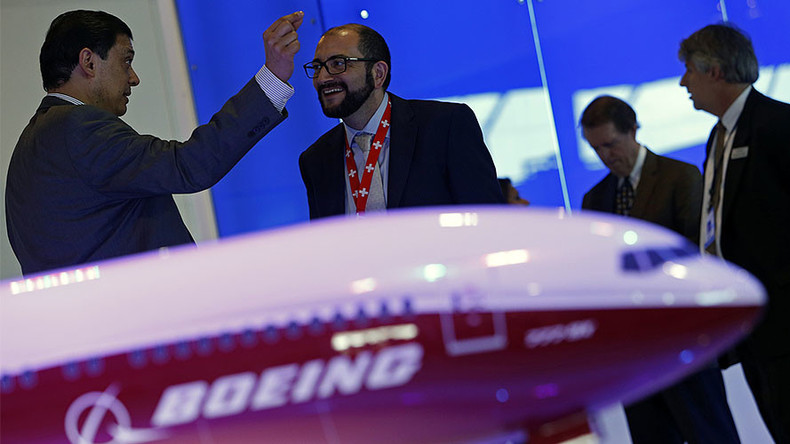 The World Trade Organization (WTO) has ruled special tax exemption granted for the production of Boeing's newest long-haul jetliner contravenes international trade rules.
The tax exemption was the central part of a case the EU filed with the trade organization against the US in December 2014.
Under the ruling the US should withdraw the subsidy within 90 days, it can also appeal.
The tax cut was provided by the state of Washington in 2013 to ensure the wings for Boeing's 777X widebody plane were made only there. The plane can seat more than 400 passengers and is an updated model of the 777. It is due to enter service at the end of the decade.
The WTO said giving Boeing the special and very low business and occupation (B&O) tax rate was unlawful because it required the company to use local rather than imported materials which distort trade.
"The Panel has found that the European Union has demonstrated that the B&O aerospace tax rate for the manufacturing or sale of commercial airplanes under the 777X program... is a subsidy contingent upon the use of domestic over imported goods [and is] prohibited," said the WTO in its ruling.
"We expect the US to respect the rules, uphold fair competition, and withdraw these subsidies without any delay," said EU Trade Commissioner Cecilia Malmstrom as cited by the Wall Street Journal.
READ MORE: Airbus probed over corruption, bribery & fraud allegations
The EU suggested Boeing had received $8.7 billion in subsidies. Boeing denied the accusations, saying they totaled just $50 million.
In September, the WTO determined the EU had failed to properly remove subsidies granted to Airbus. Next year the trade body is expected to pass a similar judgment on the US.
The transatlantic trade spat between Boeing and its European rival Airbus dates back more than a decade with the sides accusing each other of receiving billions of dollars in illegal government aid.
Their previous disagreement was settled in 1992. However, the US walked away from that deal in 2004, claiming Airbus had an unfair advantage.