Russia to deliver test batch of nuclear fuel to US reactor in 2019
Published time: 20 Jun, 2017 18:36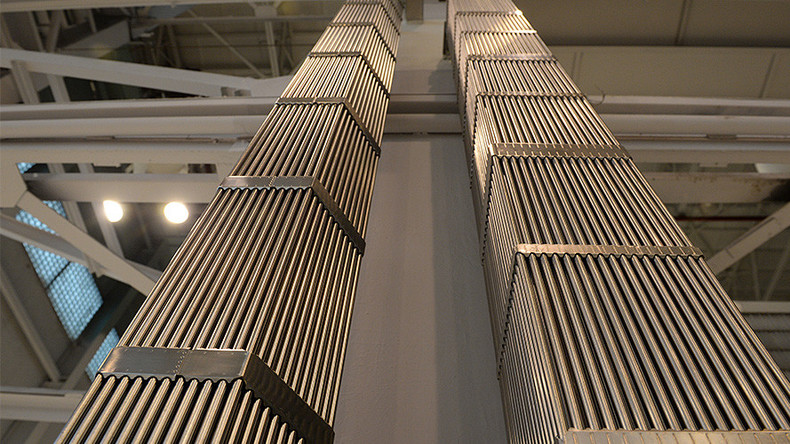 Russia's nuclear fuel company has launched production of fuel assemblies for a nuclear reactor in the US. The first test batch of fuel assemblies is scheduled to be delivered to the US in 2019, a senior company official has said.
TVEL, the fuel supply wing of the Russian State Atomic Energy Corporation, Rosatom, has begun production of TVS-KVADRAT (FA-SQUARE), the new fuel type designed for PWR (pressurized water reactor) plants of Western design.
"A contract on test-industrial operations with one of the US [nuclear power plants] operators is already signed, and we'll deliver test batch of TVS-KVADRAT fuel assemblies in 2019," TVEL's Senior VP for Commerce and International Business, Oleg Grigoriev, told reporters at a news conference during the Atomexpo-2017 forum on Tuesday.
TVEL has already received all the necessary documents from the US plant operator enabling the company to adopt Russian fuel for the US reactor.
"We're determined to sign another contract on test-industrial operations this year with another major US nuclear power plant operator. In all, there're five companies in the consortium which supports the TVS-KVADRAT program in the US," Grigoriev added.
Apart from the contract with a US nuclear power plant operator, TVEL signed an agreement last year on commercial delivery of TVS-KVADRAT fuel to Swedish Vattenfall Nuclear Fuel AB which operates the Ringhals nuclear power plant. The commercial deliveries for Sweden are scheduled to start in 2021, according to Grigoriev.
The TVS-KVADRATs are currently produced in volumes needed to meet the demand of the two companies, but TVEL might expand its production if needed.
READ MORE: Rosatom plans to sell 49% stake in $22bn Turkish nuclear power plant
"There're possibilities for scaling the production up. It will depend on the market demand," Grigoriev told reporters on Monday.
The TVS-KVADRAT fuel type is being produced at JSC Novosibirsk Chemical Concentrates Plant. The fuel assemblies derive its name from it being square in section, to be compatible with western pressurized water reactors.