Investors flee to gold & German bonds over political unrest in Middle East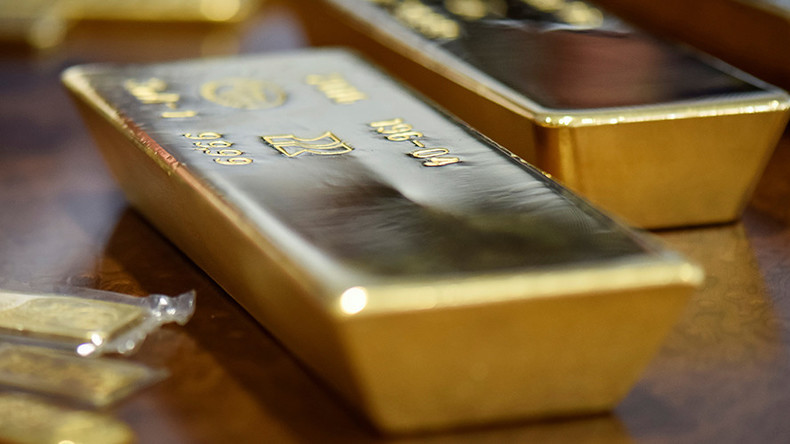 Stocks plunged globally, while gold and German government bonds were in demand on Tuesday over the diplomatic rift between Qatar and its Arab neighbors.
British elections and upcoming testimony before Congress of the former head of the FBI James Comey also made investors shy away from risky assets.
The gold price has been rising consistently over the last month and surged to $1,295 per troy ounce on Tuesday. Investors also pushed German 10-year bonds' borrowing costs to six-week lows.
Britain's FTSE100, Germany's DAX and France's CAC40 were all losing momentum on Tuesday, down less than one percent.
"We have a big week or so ahead of us with the UK heading to the polls and the ECB announcing its latest monetary policy decision on Thursday and the Federal Reserve doing the same next Wednesday," said Craig Erlam, a market analyst for OANDA securities, as quoted by Reuters.
"Once these events pass, we may have a little more clarity and therefore see a little less caution in the markets," he added.
Crude oil prices were down on Tuesday, as investors were worried the diplomatic crisis in the Middle East could undermine efforts by OPEC to remove oversupply in the market.
Brent was down 15 cents at $49.32, while US West Texas Intermediate slid 12 cents to $47.28.
"The measures by the anti-Qatar alliance signal commitment to forcing a complete change in Qatari policy or creating an environment for leadership change in Doha," said Ayham Kamel, head of Middle East and North Africa research for Eurasia Group, as quoted by Reuters.
However, others say the fears are exaggerated.
"The OPEC agreement stands and is highly unlikely to change because of tension with Qatar. Crude production in the Middle East will not change because of Qatar," said Oystein Berentsen, managing director for oil trading company Strong Petroleum.