Vineyards in France suffer biggest loss in decades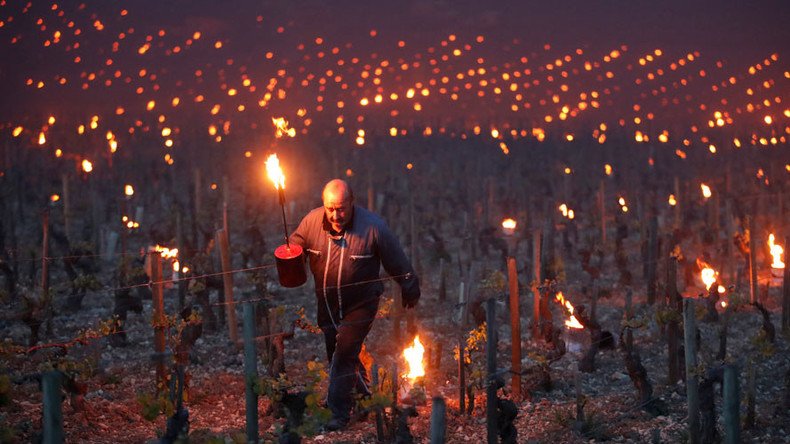 Spring frost has ravaged production in some of France's most famous winemaking regions, including Champagne, Bordeaux, and Burgundy, causing at least €1 billion in damage in what vintners call the biggest disaster in a quarter century.
Temperatures plunged below freezing in late April, hurting shoots already well-developed because of earlier mild weather.
Winegrowers have used candles, heaters and even the down-draft from helicopters to try to save crops.
"It's a frost like we haven't seen since 1991," Paul-Francois Vranken, chief executive officer of Vranken-Pommery Monopole told Bloomberg, adding that winemakers "are worried."
April's frost damage spread across Europe's wine-producing regions, but France was worst affected.
According to the Bordeaux wine federation FGVB, frost affected as much as 60 percent of the Bordeaux wine-growing areas and will cut the volume of the 2017 vintage by as much as 40 percent. Some Bordeaux chateaus say they lost almost everything.
Champagne and Burgundy suffered less, but this is the second straight year of freezes for those regions. In Burgundy's Chablis, 1,500 hectares of 5,300 hectares was affected.
In Champagne, the harvest was down more than twenty percent on the previous year. In 2016 the region suffered a 14 percent drop in exports to the UK, which is the region's largest overseas market by volume, mainly due to the value of the pound plunging.
France's total wine output fell ten percent last year as a result of adverse weather conditions. The country's wine exports were worth €8.25 billion.
You can share this story on social media: