Oil prices continue to slide on growing global oversupply
Published time: 27 Apr, 2017 14:33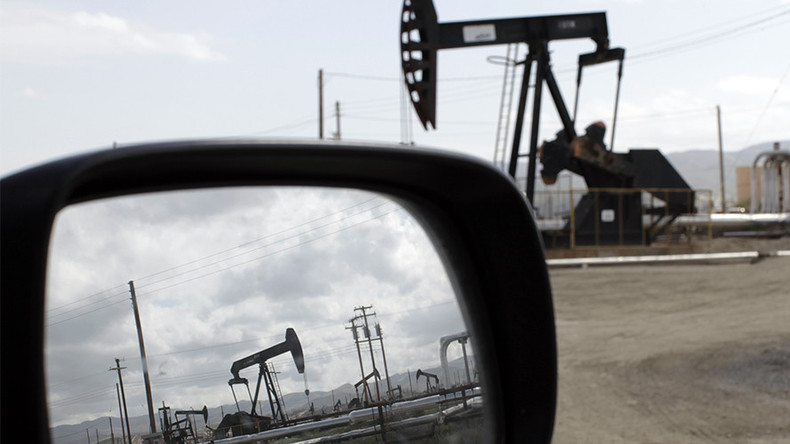 The price of oil fell on Thursday following reports of an unexpected rise in US fuel stockpiles and concerns supply curbs by major producers may not be sufficient to clear the global surplus.
Benchmark Brent crude and US WTI were down more than two percent, trading at $50.71 per barrel and $48.55 a barrel, respectively, as of 2:00pm GMT.
Traders said supplies were rising in all key markets.
"It is clear that the world has plenty of oil in stock, making OPEC's life that much harder," Jeffrey Halley, senior market analyst at futures brokerage OANDA in Singapore, told Reuters.
US data on Wednesday showed a drop in crude oil stocks, but gasoline inventories surged as refineries were pumping out more fuel than the market could consume. Gasoline stockpiles grew by 3.4 million barrels last week while diesel inventories rose by 2.7 million barrels.
US crude oil production is up 10 percent since mid-2016 at 9.27 million barrels per day(bpd).
According to oil and gas consulting services firm Rystad Energy, US shale oil output is expected to grow by 100,000 bpd each month for the rest of this year and into 2018 if oil prices hold around $50-$55 a barrel.
"We see a risk for a weaker oil price toward the end of the year... because shale is delivering so much oil," CEO Jarand Rystad said.
Some experts, however, claim the possibility of a production cut extension by oil producers could support prices to hover around current levels.
OPEC is scheduled to meet on May 25 to discuss whether to extend output cuts of 1.2 million bpd for another six months.
Russia, Mexico, Kazakhstan and several other non-OPEC countries have agreed to curb their production by 600,000 barrels per day. Russia has pledged half of the cuts.