Trump wants to renegotiate trade deal with Canada & Mexico, not terminate NAFTA for now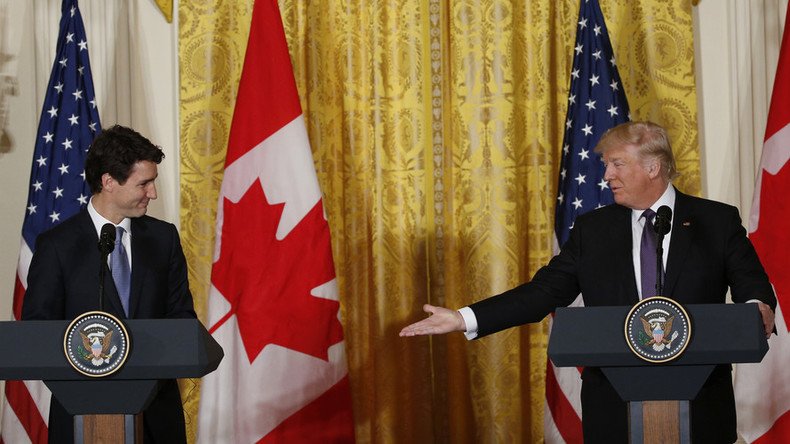 US President Donald Trump has told the leaders of Canada and Mexico he won't withdraw from the North American Free Trade Agreement (NAFTA) "at this time," but will begin renegotiating it with them.
"President Trump agreed not to terminate NAFTA at this time, and the leaders agreed to proceed swiftly, according to their required internal procedures, to enable the renegotiation of the NAFTA deal to the benefit of all three countries," the White House said in a statement.
Later Trump told reporters that the renegotiation "will start very soon. It's actually starting today."
The announcement followed reports Trump and his advisers had considered issuing an executive order to withdraw the United States from the 23-year-old trade pact with Canada and Mexico.
Trump spoke by telephone with Mexican President Enrique Pena Nieto and Canadian Prime Minister Justin Trudeau late Wednesday which was described by the White House as a "pleasant and productive" conversation.
"It is my privilege to bring NAFTA up to date through renegotiation. It is an honor to deal with both President Pena Nieto and Prime Minister Trudeau, and I believe that the end result will make all three countries stronger and better," Trump was quoted as saying in the statement.
On Thursday, Trump tweeted that the termination of the trade pact was still a possibility.
I received calls from the President of Mexico and the Prime Minister of Canada asking to renegotiate NAFTA rather than terminate. I agreed..

— Donald J. Trump (@realDonaldTrump) 27 апреля 2017 г.
...subject to the fact that if we do not reach a fair deal for all, we will then terminate NAFTA. Relationships are good-deal very possible!

— Donald J. Trump (@realDonaldTrump) 27 апреля 2017 г.
Trump's comments on NAFTA came just days after the US imposed 20 percent tariffs on softwood lumber coming from Canada.
He also called a new Canadian tariff regime affecting US dairy products a "disgrace." According to media reports, Canada has imposed charges on dairy products entering the country, some of which are as high as 270 percent.
During his election campaign, Trump called NAFTA the "single worst trade deal ever" and a "killer" of US jobs. He has repeatedly vowed to pull out from the pact if he is unable to renegotiate it with better terms for America.
Canada said it was ready to talk on renewing NAFTA at any time.
"At this moment NAFTA negotiations have not started. Canada is ready to come to the table at any time," Canadian foreign ministry spokesman Alex Lawrence was cited as saying by Reuters.
You can share this story on social media: