Gold price soars to 5-mth high on geopolitical unrest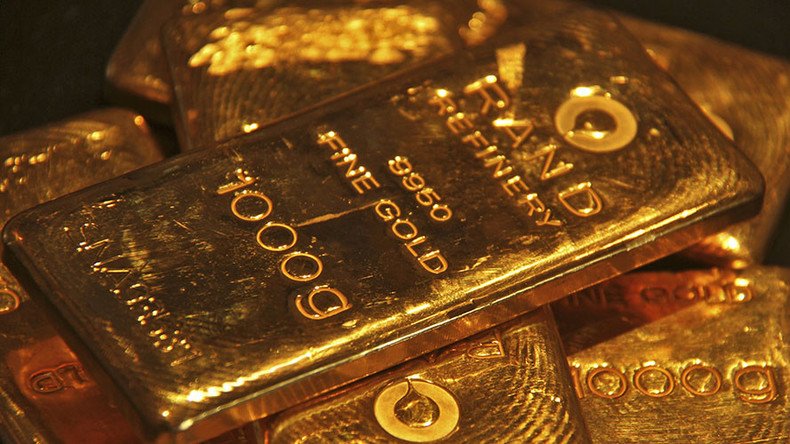 Rising global tension around Syria and North Korea have pushed gold prices to their highest level since November as investors shift to safe haven assets.
Bullion rose 0.2 percent on Wednesday to $1,274 per troy ounce as of 9:40am GMT after earlier reaching its highest level since November 10 last year of $1,279.85.
"Gold has finally broken and closed above its 200-day moving average at $1,257.50, which now becomes a support. From a technical perspective, the way is now clear for a run at $1,300 and possibly higher," said Jeffrey Halley, senior market analyst at OANDA.
"A serious escalation could see gold to the $1,380 to $1,400 area tout suite, but it would have to be really serious," Halley told Bloomberg.
READ MORE: China claims discovery of its largest gold mine with $22 billion potential
Heightened tensions on the Korean peninsula and in the Middle East following US strikes on Syria have left investors nervous.
"When you put that mix together: Syria, Trump, North Korea, it's a volatile thing," said Jonathan Barratt, chief investment officer at Ayers Alliance Securities in Sydney. "It's that uncertainty that people are concerned about."
READ MORE:Trump: Xi will get better deal from US if China solves North Korean problem
On Tuesday, North Korean state media warned of a nuclear attack on the United States if provoked.
US President Trump said in a tweet that North Korea was "looking for trouble" and the United States would "solve the problem" with or without China's help. The US has moved a naval battle group closer to North Korea over concerns it may conduct a nuclear or missile test.
North Korea is looking for trouble. If China decides to help, that would be great. If not, we will solve the problem without them! U.S.A.

— Donald J. Trump (@realDonaldTrump) April 11, 2017
Investors are also closely looking at US-Russia relations as US Secretary of State Rex Tillerson visits Moscow on Wednesday.
The upcoming French presidential election is also adding to worries about volatile global politics, according to analysts, adding a risk-off mood may continue to translate into gold gains.
You can share this story on social media: