Russia to enhance oil and gas industry cooperation with Iran — Putin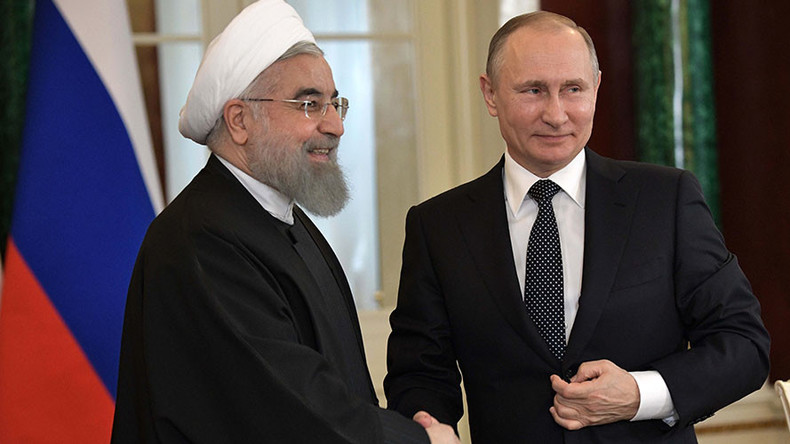 Russia is planning to expand economic cooperation with the Islamic Republic of Iran in the oil and gas industry to ensure sustainable economic development, Russian President Vladimir Putin said after meeting his Iranian counterpart.
Iran's president, Hassan Rouhani, is in Moscow on an official visit.
Russia sees "a great potential for enhanced oil and gas industry cooperation," Putin said at a joint news conference which followed the meeting of the two leaders. He added that "leading Russian companies have reached a number of important agreements concerning the development of major hydrocarbon deposits in Iran."
Putin and Rouhani also agreed to continue cooperation aimed at stabilizing the global energy market and ensuring sustainable economic development.
The two sides "welcomed the agreements reached by OPEC members and other oil-producing countries, which contribute to the balancing of supply and demand at the [global] oil market within the acceptable price range," read the joint communiqué signed by the two presidents.
In December 2016, eleven non-OPEC oil-producing countries agreed to decrease oil production by 558,000 barrels per day in total. Russia pledged to shrink its oil production by 300,000 barrels per day alone. Several weeks earlier, OPEC members further agreed to decrease their oil production by 1,2 million barrels per day.
Russia and Iran also agreed to continue their cooperation within the Gas Exporting Countries Forum (GESF) aimed at building a mechanism for a more meaningful dialogue between gas producers and gas consumers for the sake of stability and security of supply and demand in global natural gas markets.
Meanwhile, Russia's top natural gas producer Gazprom and the National Iranian Oil Company (NIOC) signed a memorandum of cooperation in the gas industry sector, with a particular emphasis on the Russian company's participation in the development of Iranian oil and gas fields.
Putin and Rouhani also discussed the issue of using national currencies as reciprocal payments and developing inter-bank cooperation between the two countries and ensuring an increase in trade and investments.
The two leaders particularly focussed on the potential creation of a free-trade zone between Iran and the Eurasian Economic Union that consists of Russia, Belarus, Armenia, Kazakhstan, and Kyrgyzstan. Rouhani told journalists at the press conference that such a trade zone could significantly improve the trade situation and "create new conditions" in the regional trade system.
The Iranian leader went on to say that bilateral relations between the two countries are moving to a new, strategic level. "The relations between our countries in terms of economy, growth of trade and tourism show [significant] progress," he said, adding that Russia and Iran are moving towards "developing strategic relationships in the economic, cultural and scientific [spheres]."
You can share this story on social media: