Wall Street dominates global investment banking, leaving Europe in the dust
Published time: 22 Mar, 2017 10:51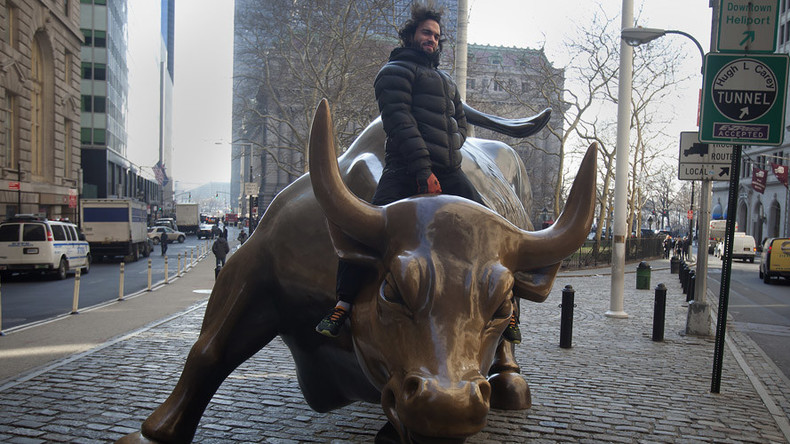 The top five places in global investment banking now firmly belong to US banks, according to industry analytics firm Coalition. JPMorgan retained the crown as the world's biggest investment bank by revenue in 2016.
It was followed by Citi, Goldman Sachs, Bank of America Merrill Lynch, and Morgan Stanley.
US banks now take in around two-thirds of the investment banking revenue pie. The gap has widened consistently since 2011 when the US-European split was roughly 50-50.
"European banks had some significant trading underperformance last year, which we don't see repeating," said Amrit Shahani, research director at Coalition. "They should improve, albeit from a low base. We expect them to maintain and build on their market share this year."
According to him, banks at the top and bottom end of the ranking are taking market share from those in the middle.
Statistics showed JP Morgan's revenues from trading, mergers and acquisitions and other investment banking activity rose 11 percent to $25.2 billion last year from $22.7 billion in 2015. Its position was strengthened by dominance in G10 rates and foreign exchange trading.
JP Morgan's CIB CEO Daniel Pinto said last month the bank had made progress across all segments of equities. "It's not that we wanted to throw money everywhere and go to top three everywhere, we picked the ones… where we were not where we wanted to be," he said. "Clients… want bigger and better JPMorgan, and that's where we invested."
The world's big banks had a tough start to last year with weak Chinese data and plunging commodity prices. Fears of a potential recession jeopardized investor sentiment. Revenue fell 15 percent in the first six months, which was the worst first half-year performance since the 2008 financial crisis.
Trading recovered in the second quarter of 2016 thanks to the twin shocks of Britain voting to leave the European Union and Donald Trump's US presidential election victory. US banks' total revenue for the second half of last year jumped 37 percent to $24.6 billion.
The outlook for 2017 will be "a bit more mellow as we go through the year" with an overall increase in revenues in the single-digit percentages, according to Coalition.