Saudi king cancels Maldives visit amid investment plan backlash
Published time: 17 Mar, 2017 11:18
Edited time: 17 Mar, 2017 13:18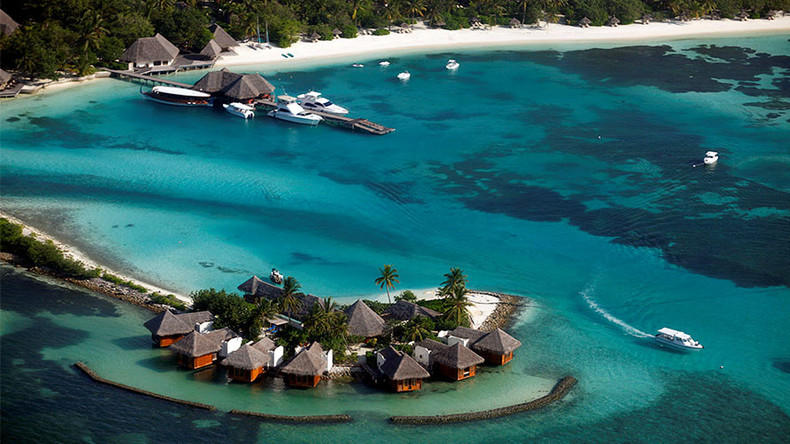 King Salman bin Abdulaziz has postponed an official visit to the Maldives following protests against a proposed $10 billion Saudi investment in the country's tourism and transport.
The Maldives government said the postponement is due to an outbreak of swine flu. Since January, 105 people have contracted the disease with two fatalities.
Activists are protesting alleged plans by Maldives' President Abdulla Yameen to sell off a chain of islands and lagoons to the powerful son of King Salman, Mohammed bin Salman, Saudi Arabia's defense minister and deputy crown prince.
They say the plan will force islanders from their homes, damage the unique environment and encourage corruption.
Despite the opposition, the Saudi royal family is reportedly in talks with the local government.
The Maldives visit was part of the Saudi king's month-long Asian tour, as the kingdom seeks to diversify its economy from oil. King Salman has already visited China, Japan, Indonesia, and Malaysia with a series of investment agreements sealed.
"The Maldives are of strategic importance to the Saudis, as well as offering a good south-south investment outlet. This is a manifestation of Riyadh's new foreign policy - creating an alliance against extremism and terrorism, a fundamental reorientation of policy," said a Saudi government adviser, as quoted by the FT.
A proposed deal for Saudi Arabia to lease the Faafu Atoll in the Maldives for 99 years as a special economic zone provoked outrage on the islands. An agreement has yet to be signed.
Maldivian authorities have denied they are "selling off" national territory, saying that Saudi-funded $10 billion investment project on the atolls will focus on luxury tourism.
"Any development of Faafu Atoll is part of a wider, multi-faceted program to finance a major, multibillion-dollar investment project encompassing mixed development, residential and high-class development and several tourist resorts and airports," the statement said.
According to the opposition, journalists covering the protests have been detained with locals prevented from leaving their islands to join the demonstrations. At the same time, opposition premises were raided to confiscate material related to the protests.
"There is no consultation with parliament or the public. More protests are planned - people are painting their walls saying 'Save our atoll'," said Eva Abdulla, an MP from the opposition Maldivian Democratic Party.