Russian ruble remains resilient to crude mood swings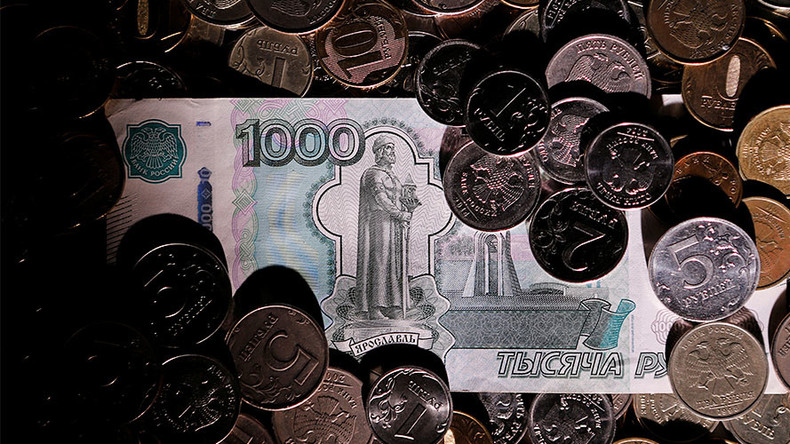 The sharp decline in oil prices has not had a significant impact on the Russian ruble. Unlike times past, the currency is showing strong resilience in the face of crude fluctuations.
The ruble was losing slightly to the US dollar on Monday, trading just above 59 against the greenback, while gaining a fraction at above 63 against the euro.
The Russian currency has come under strong pressure in recent days with Brent crude futures losing 8.1 percent since March 7. The ruble has dropped just 1.5 percent against the dollar during the same period.
Despite OPEC efforts to cap production, oil prices touched the lowest in three months on Monday, pulled down by new rigs added by US drillers.
Brent crude was down 0.21 percent, to $51.26 per barrel by 07:55am GMT, while US West Texas Intermediate (WTI) dropped 0.39 percent, to $48.30 a barrel.
"With the market still digesting the big increase in inventories, oil prices are likely to remain under pressure today," according to the note from ANZ bank, as cited by Reuters.
The ruble's surprising resilience to oil fluctuations is making the market focus on the monetary policy of the Central Bank of Russia (CBR).
READ MORE: Crude prices continue to crash on growing US stockpiles
"We will carefully watch the speeches of first deputy governors Sergei Shvetsov and Dmitri Tulin today and CBR Governor Elvira Nabiullina on Thursday for any indications that a rate cut this month is under serious consideration," analysts at Sberbank CIB said in a note, as quoted by Reuters.
High interest rates set by the regulator attract foreign investment and inflows into ruble instruments. The key rate currently stands at ten percent. That is far above annual inflation, which is reportedly nearing the four percent target.
READ MORE: IEA: Huge Oil Price Spike Inevitable
Dutch multinational bank ING says the Russian ruble is likely to be driven by future changes in oil prices, with prospects the US Fed could hike its key rate next week already priced in.