Colombia blows away competition as world's top cocaine producer
Published time: 9 Mar, 2017 10:46
Edited time: 9 Mar, 2017 10:47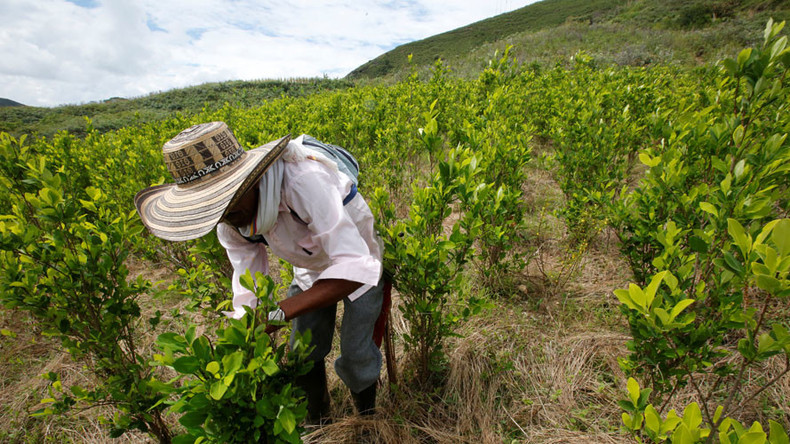 The cultivation of the coca crop in Colombia has hit record levels for two years in a row, making the country the world's major producer of cocaine, according to the US State Department's annual International Narcotics Control Strategy Report.
The report says the area under coca cultivation, grew 39 percent in 2014 and 42 percent in 2015, to 159,000 hectares (ha). The increase was the largest single-year spike on record and could be attributed to a number of factors.
Sources of the Colombian newspaper El Tiempo explained the country could have seen an area as large as 200,000 ha (494,211 acres) under coca cultivation in 2016.
The area of Illicit coca cultivation in Colombia was followed by Peru which saw an increase to 53,000 ha, and Bolivia with 36,500 ha.
Two years ago the Colombian government halted aerial spraying of the crop, concerned that the herbicides may cause cancer. The aerial spraying played a huge part in stemming the growth in coca production.
Another factor for the increase was that illegal coca growers started cultivating smaller, better-concealed fields to avoid detection by law enforcement.
READ MORE: 'Historic day': Bolivia doubles coca cultivation land, burying law against 'demonized' plant
Rebels from the left-wing Revolutionary Armed Forces of Colombia (FARC) reportedly encouraged farmers to plant more coca, believing areas with high production would receive more benefits from the government under the peace deal Bogota signed with the rebels in November. FARC had previously vowed to leave the drug trade if a peace agreement is reached.
In 2015, the country seized 295 metric tons of cocaine along with other illegal drugs. Last year, the Colombian government reported seizing 421 metric tons of cocaine and cocaine base.
Statistics showed the spike in the area under coca cultivation returns the South American country to levels not seen since 2007, with several regions contributing heavily to that increase.
The increased coca crop is likely to give Colombian organized crime a serious injection of cash. The Colombians have increasingly been playing second fiddle to the Mexican cartels, which now dominate the US market. However, the Colombian cartels are now exploring alternative and more lucrative markets, such as Europe and Asia, as well as flooding markets closer to home, like Brazil and Argentina.
Many of the biggest Colombian groups have been dismantled since the heyday of the Medellin Cartel in the late 1980s, and the reduction in coca crops has been a huge factor in undermining of criminal profits and therefore the power of the organized crime syndicates that smuggle cocaine.