Amazon chief to announce new space exploration plans
Published time: 6 Mar, 2017 14:01
Edited time: 6 Mar, 2017 14:03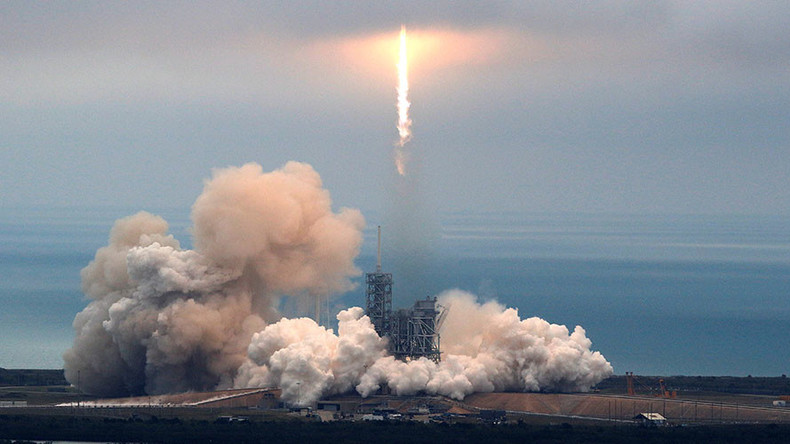 Private aerospace company Blue Origin set up by Amazon's CEO Jeff Bezos is expected to unveil plans this week for future space explorations, according to industry officials.
It is part of the company's ambitious plan to create rockets powerful enough to reach the outermost corners of the solar system.
Unnamed officials said Bezos might reveal details of Blue Origin's project to build a family of reusable rockets to conduct both manned and robotic missions to the Moon and other planets.
The company may announce plans for heavy-lift boosters amid growing competition with powerful rockets already under development by Elon Musk's SpaceX. The test flight of the long-delayed Falcon Heavy developed by Musk's corporation is slated for this year.
The National Aeronautics and Space Administration (NASA) is working on its own version of a deep-space booster and capsule. The first launch of the booster, called SLS, is scheduled for 2018.
READ MORE: Amazon boss wants to start delivery service to the Moon
Jeff Bezos has not detailed any timetable for the company's projects. Among the most promising are the heavy-lift rocket called the New Glenn, and a next-generation rocket called New Armstrong, named in honor of astronauts John Glenn and Neil Armstrong.
Last week, the billionaire proposed an Amazon-like delivery service for potential human settlement on the Moon. The venture is reportedly seeking NASA support to carry out a series of cargo missions which would transport the equipment necessary to establish a human colony on the Moon.