Investors eager to snap up Snap shares after successful IPO
Published time: 2 Mar, 2017 14:39
Edited time: 2 Mar, 2017 15:01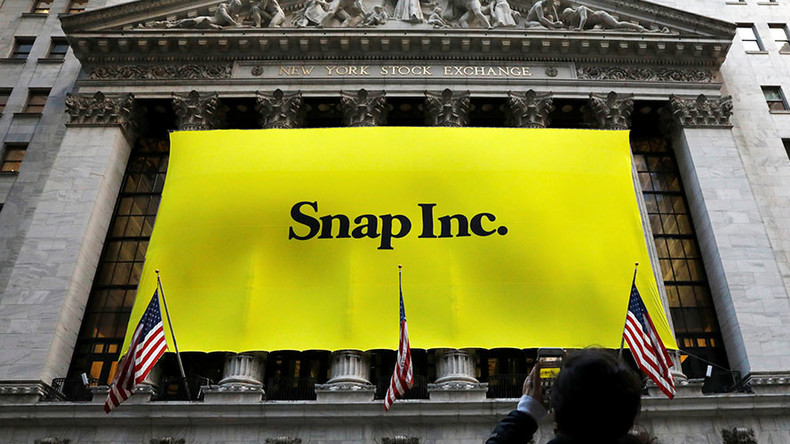 Snapchat parent company Snap begins trading on the New York Stock Exchange on Thursday under the ticker name SNAP after the popular messaging app raised $3.4 billion in its initial public offering (IPO).
Snap's offering was priced above the expectations at $17 a share. The IPO was oversubscribed by more than ten-times which means the shares could have been priced at as much as $19.
The stock price places the company's market value at around $24 billion. Snap was initially targeting $19.5 billion to $22.3 billion range.
According to Reuters sources, the company wanted to attract longer-term investors, like mutual funds, rather than hedge funds which could sell the shares quickly for a fast profit.
Snap became one of the highest-profile stock market debuts in years thanks to high demand from investors.
It is the most valuable American technology company to go public since Facebook nearly five years ago. Snap's market value is more than double the size of rival Twitter.
Experts say the sale was well timed, as investors look for fresh opportunities after 2016 marked the slowest year for IPOs since 2008.
The Los Angeles-based company, Snap has enjoyed strong revenue growth in recent years, with earnings climbing nearly seven-fold in 2016 to $404.5 million.
However, its net loss widened 38 percent last year. The company faces intense competition from larger rivals such as Facebook's Instagram as it grapples with decelerating user growth. The number of people using Snap's app slowed in the second half of 2016, according to Bloomberg.
Snap is the parent company of popular photo sharing app Snapchat which is beloved by teenagers and people under 30 for applying bunny faces and vomiting rainbows onto selfies.
The company, which launched in 2011, allows users to send pictures and videos which then disappear after 10 seconds. The company says it has 158 million users daily with 2.5 billion snaps sent each day.