'Euro is not a currency, it's a political weapon' – Marine Le Pen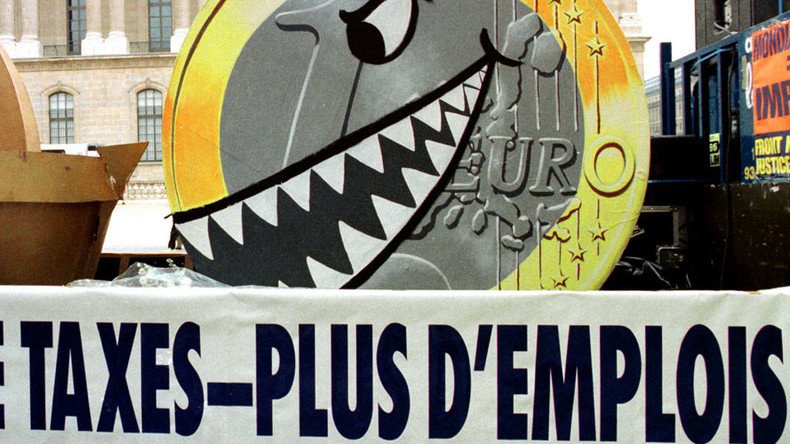 French presidential hopeful Marine Le Pen, who has been calling the country to leave the eurozone and give up the euro, has described the single currency as "a knife which the EU puts into the backs of the people."
In an interview with the BBC, she talked about her vision for the future of Europe after this year's elections in France, Germany and the Netherlands, and the UK's Brexit vote.
According to Politico, Le Pen said the European Union should change radically and deeply, and abandon its authoritarian character, "or it will die."
When asked if France leaving the eurozone would mean the end of the EU single currency, Le Pen said: "Maybe, and so what? The euro isn't a currency, it's a political weapon. The euro is a knife which the EU puts into the backs of the people to force them to go where they don't want to go."
She also said that if the EU doesn't transfer powers back to Paris, there will be a French exit from the union or a so-called 'Frexit.'
"Either the EU gives French people back their territorial sovereignty, borders, control over their economy, control over their currency and the superiority of their laws, or I will say to the French people that we should leave the EU."
In a manifesto released last week, the leader of the National Front Le Pen said France should reconsider its relations with the European Union.
According to the 48-year-old candidate, the future French government should leave the eurozone, hold a Brexit-style referendum, levy taxes on foreign workers, lower the retirement age and increase some welfare benefits, while cutting income tax.
Earlier this month Le Pen pledged to introduce a new tax to prevent foreign employees being hired, claiming the money raised could be used for the French welfare system.
A new poll issued Thursday by research firm Harris Interactive shows Marine Le Pen will win the first round of France's presidential election in April, getting 24 percent of vote. Other polls indicated she will lose the runoff to Emmanuel Macron.
You can share this story on social media: