IMF issues damning report on eurozone fiscal policy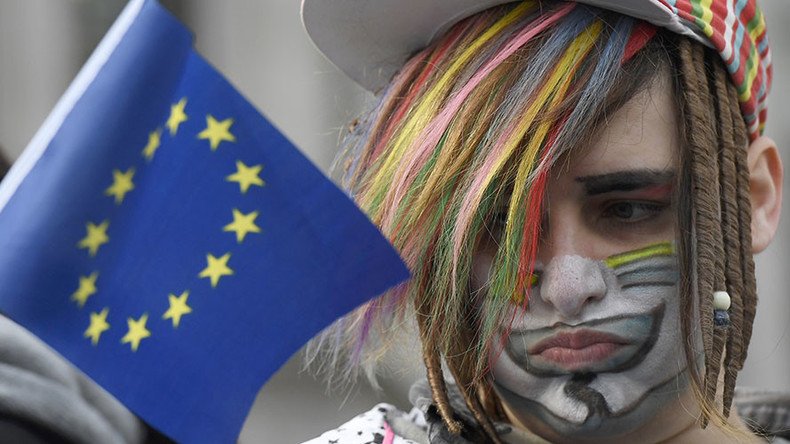 A new study from the International Monetary Fund (IMF) accuses EU countries of running excessive deficits, distorted budgets and poor compliance with financial rules in the single currency area.
The IMF working paper called Fiscal Politics in the Euro Area analyzes data from 19 countries participating in the eurozone over 1999–2015.
It reveals the public-debt-to-GDP ratio of the euro area as a whole increased from an average of less than 60 percent of GDP in the early 1990s to more than 90 percent in 2015.
READ MORE: Eurozone debt to GDP ratio grows to 92.9%
According to the EU statistical service Eurostat, the new debt is more than fifty percent higher than the maximum allowed level of 60 percent determined by the Stability and Growth Pact, a set of rules designed to make sure EU members "pursue sound public finances and coordinate their fiscal policies."
The IMF study shows that while the euro was introduced to be the common currency within the EU, the member states have been struggling to maintain confidence in it since the start of the sovereign debt crisis of 2009.
Some of them were struggling to repay or finance their government debt, mainly because of increased public spending and slow growth. Previously, when all of them had their own currencies, the governments could have devalued the currency to resolve the situation.
The paper also said that many euro area countries are running "excessive deficits" while spending more than they are earning.
They are "rooted in distorted political incentives" at both national and eurozone levels, it added.
According to the report, one of the major reasons for those distortions is "the expressed perception by many analysts that European fiscal governance releases countries from their national responsibilities."
"Nothing could be further from the truth: fiscal policy is, first and foremost, a national responsibility. The combination of this misperception with the predominance of the national dimension of politics constitutes a dangerous mix," the IMF said.
The report also pointed to the fact that oversight of the Eurozone is too complicated and political. The responsibility for enforcement is shared between the European Commission and the Economic and Financial Affairs Council which comprises the finance ministers of the eurozone.
The incomplete separation of powers between the two entities has long been seen as a weakness to implementation of the Stability and Growth Pact, concluded the report.
You can share this story on social media: