China connects east & west with longest bullet train line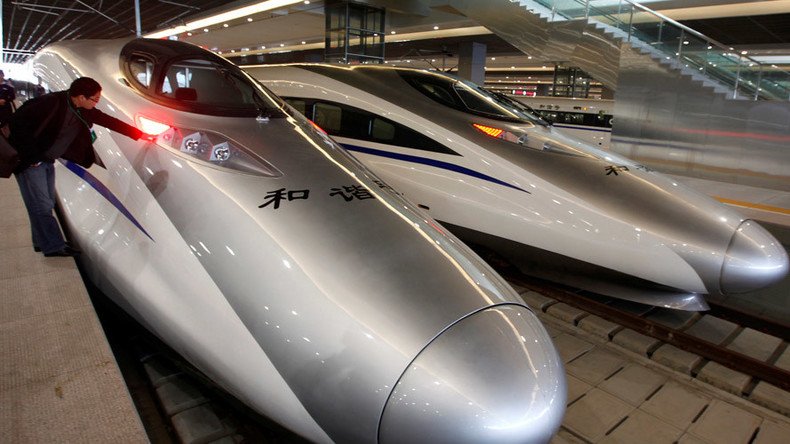 One of the world's longest high-speed railways has started operating in China, linking the country's prosperous eastern coast to the less-developed southwest, the state Xinhua news agency has reported.
The 2,264-kilometer Shanghai-Kunming rail line runs across the five provinces of Zhejiang, Jiangxi, Hunan, Guizhou and Yunnan. It cuts the travel time from Shanghai to the capital of Southwest China's Yunnan province Kunming from 34 to 11 hours.
According to train driver Wang Jinda, the trains can travel at speeds up to 330 kilometers per hour.
In 2012, China started operating another high-speed link, the 2,298-km Beijing-Guangzhou line which stretches north to south.
READ MORE: China to build 'world's largest' high-speed railway station under Great Wall
The country has more than 20,000 km of high-speed rail lines and expects to more than double that to 45,000 km by 2030.
Beijing is also actively developing its own high-speed train technology. In the summer it set a new speed record with a train reaching 840 km per hour on a test run. Two trains were tested at the same time to prove the quality of Chinese technology. The trains, known as Golden Phoenix and Dolphin Blue zipped past each other with only 1.6 meters of space between them.
China recently unveiled plans to build the world's deepest and largest high-speed railway station as part of its preparations for hosting the 2022 Winter Olympics. The station will be constructed directly underneath Badaling – the most-visited section of the Great Wall of China, which attracts tens of thousands of visitors a day. The three-floor underground station will be located along the railway which is currently being built to connect the cities of Beijing and Zhangjiakou. The track will stretch 174km and is expected to be finished by 2019.
READ MORE: China to build 400km/h train for Russia's high-speed railway
China is also developing a new generation of trains capable of reaching speeds of 400 kilometers per hour for Russia's Moscow-Kazan high-speed railway. Beijing plans to provide a $6 billion loan for the route which in future may become a part of a $100 billion high-speed railway connecting the two countries.
WATCH MORE:
You can share this story on social media: