Spanish banks may be forced to pay billions to swindled mortgage holders
Published time: 21 Dec, 2016 13:43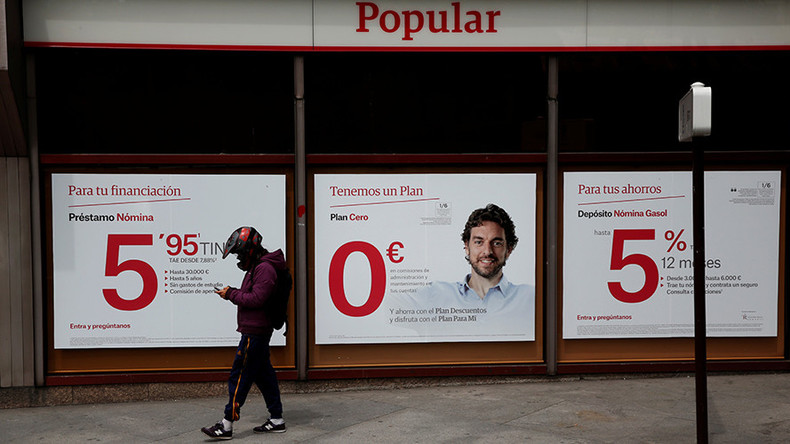 A ruling by the European Court of Justice may force Spain's biggest banks to pay back over €4 billion to clients who signed mortgage contracts that prevented them benefiting from falling interest rates.
According to the ruling, the banks will be obliged to reimburse customers for what they lost on mortgages before May 2013, when Spain's Supreme Court declared them invalid if not presented clearly. The ruling exposes banks such as BBVA, Banco Sabadell, Caixabank, Banco Popular and Liberbank.
Spanish banks introduced the so-called "floor clauses" as a safety net during the financial crisis, and most of them have since removed them. The lenders have prepared €5 billion for compensations.
Most of Spain's home mortgages are linked to the 12-month euro interbank offered rate or Euribor. The benchmark has fallen, but households are not able to benefit from this.
"Spanish case-law placing a temporal limitation on the effects of the invalidity of 'floor clauses' included in mortgage loan contracts in Spain is incompatible with EU law," the court said.
The ruling saw shares in the Spanish banks plummet. Liberbank lost nearly 13 percent, while Banco Sabadell fell as much as 7.5 percent before recovering to a three percent loss.
Banco Popular slipped as much as 10.5 percent before rebounding to a seven percent decline. The bank is already under pressure after Chairman Angel Ron failed to get rid of €30 billion in toxic assets. Shares in Caixabank was also losing ground.
"This comes as a surprise and at a bad moment for Spanish banks as most of them would have to make extra provisions to pay for this. It will mean pressure on capital generation and profits in the fourth quarter," Daragh Quinn, an analyst at Keefe Bruyette & Woods told Bloomberg.