Medvedev says EU food embargo remains in response to anti-Russian sanctions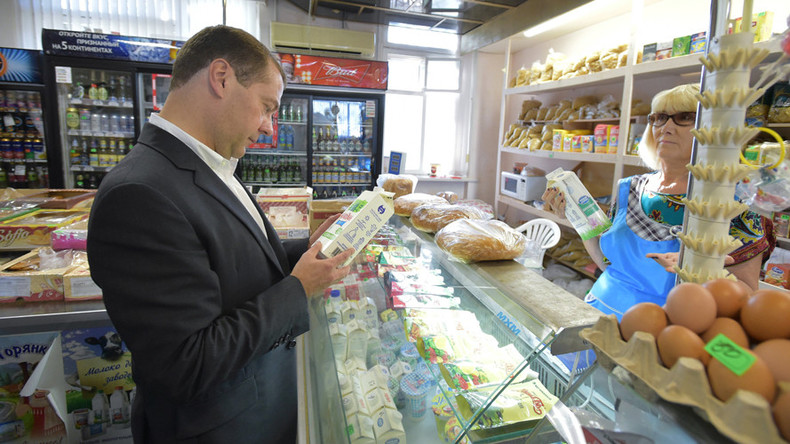 Moscow will keep its reciprocal economic measures against the EU due to the sanctions they have imposed, said Russian Prime Minister Dmitry Medvedev. Imports of produce from the bloc were banned by Russia two years ago.
"We have retained those countermeasures so far but should be ready that sooner or later this period will end, and competition will be here again," Medvedev told Russian TV channels on Thursday.
He added it is necessary to develop agriculture and industry so it will be competitive with the West.
According to the prime minister, the measures were introduced to stimulate domestic production and many Russian companies have been asking the government to keep them.
"We have imposed the embargo not to annoy our Western partners but mainly to develop our economy. Russian businesses asked us not to cancel it because of the opportunities they have," said Medvedev.
Last month, Russian President Vladimir Putin said the embargo on certain western food products was good for Russia's economy and should last "as long as possible." He explained that the ban is also in consumer interests, with high-quality products at lower prices becoming more available.
The Kremlin imposed an embargo on EU agricultural produce, food and raw materials after Brussels passed anti-Russian sanctions in 2014. Since then the sides have repeatedly broadened and extended the restrictive measures.
On Thursday, Lithuanian President Dalia Grybauskaite said he EU has agreed on an extension of the economic sanctions against Russia for another six months.
"All member states understand that it is inevitable," she said, adding "the written procedure is already in place."
The current sanctions slapped on Russia for its alleged involvement in the conflict in eastern Ukraine expire on January 31, 2017.
You can share this story on social media: