Britain's employment rate slips slightly as wages continue to rise
Published time: 14 Dec, 2016 13:05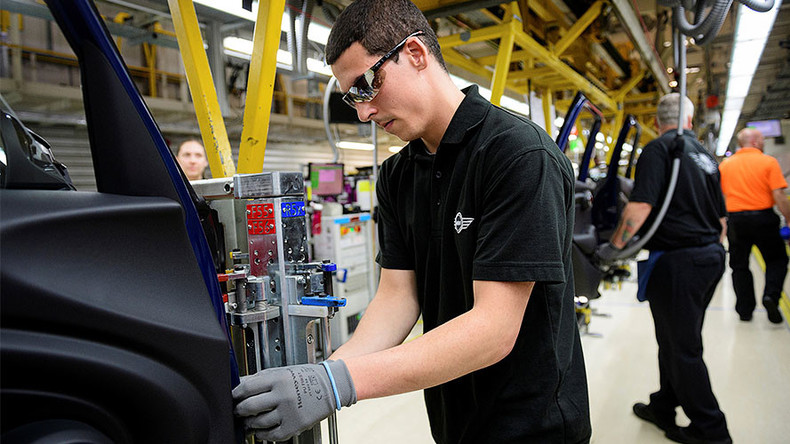 Employment in the United Kingdom dropped for the first time in over a year in the three months to October. The Office for National Statistics (ONS) said the number of workers fell 6,000 to 31.76 million. Wages grew at their fastest pace since summer last year.
The ONS said total earnings surged by an annual 2.5 percent, compared with 2.4 percent in the three months through September, the best result in over a year.
At the same time, the decline in working people did not change the jobless rate of 4.8 percent.
"The labor market appears to have flattened off in recent months. While the employment rate remains high, it is slightly down on the record set recently," ONS statistician David Freeman said.
The UK unemployment rate is expected to rise to 5.6 percent within two years, as businesses expect clarity from the government on the Brexit vote. Even if Article 50 is triggered and the authorities greenlight the exit from the European Union, the process may take years.
However, major global companies Google and Facebook have pledged to create more jobs in the country, indicating that business continues as usual in Britain.
"If job opportunities are deteriorating, we see further downside risk for confidence and activity in general," said James Knightley, an economist at ING Bank in London, as quoted by Bloomberg.
"While the BOE (Bank of England) are officially neutral on the outlook for monetary policy, we still think a rate cut is more likely than a hike next year," he added.
The British pound showed no reaction to the ONS data, losing less than a tenth of a percent, trading at $1.2648 against the US dollar.
"The pronounced fears among market participants over pound-induced inflation in the immediate aftermath of Brexit have receded notably," said MUFG's European head of G10 currency strategy, Derek Halpenny.