19.5% of Russian oil giant Rosneft sold in 'biggest privatization deal of 2016'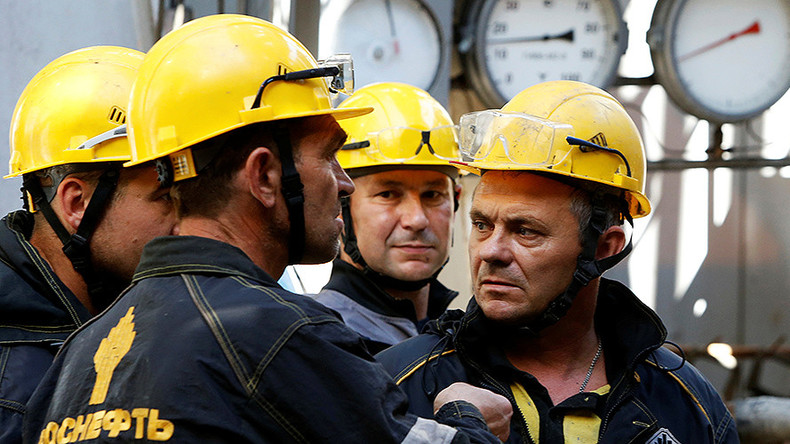 The sale of Russia's largest oil company Rosneft's share package to the natural resource trader Glencore International and a Qatari sovereign wealth fund for over $11 billion has become the biggest privatization deal of 2016, Russian President Vladimir Putin said.
"That is the biggest privatization deal, the biggest sale and acquisition in the world's oil and gas sector in 2016," the president said, referring to the Rosneft share sale during the meeting with the Rosneft CEO, Igor Sechin, a statement published on the official Kremlin website said.
Sechin informed Putin about the closing of the share package sale and said that the Russian state budget will receive more than a trillion rubles ($17.5 billion) from this deal, and the acquisition of the Russian Bashneft oil company by Rosneft in October.
Under the deal signed with Glencore and the Qatari fund, the natural resources trader and the fund acquired 19.5 percent of the oil company's shares for €10.5 billion ($11.3 billion). The two buyers formed a joint consortium, in which both of them hold a 50 percent stake, to buy the Rosneft share package. As a result, both of them got 9.75 percent of Rosneft shares each.
Together, they hold the third largest stake of Rosneft shares as more than 50 percent still belong to the company's largest shareholder – the state-owned oil transportation agency Rosneftegaz, while another 19.75 percent is owned by BP.
Sechin also informed Putin that Rosneft held talks with more than 30 companies, sovereign wealth funds, professional investors and financial institutions from Europe, Americas, Middle East and Asia before signing the deal.
Putin congratulated the Rosneft CEO on the successful closure of the deal and expressed hope that the attraction of new investors and managers would "improve corporate procedures, increase transparency and contribute to the capitalization growth."
Rosneft is Russia's biggest oil company with the majority owned by the Russian government. In March 2013, after buying TNK-BP, Rosneft became the world's largest publicly traded oil company. It also purchased 50.755 percent of the shares in the Bashneft oil company, one of the largest Russian crude oil producers, on October 14.
The signing comes as the Kremlin looks to raise money to tackle Russia's biggest budget deficit since 2010. The initial goal was to reduce it to three percent of GDP, but different agencies estimate the deficit could hit 3.6-3.9 percent this year, slowly reducing to 3.1 percent next year and 2.2 percent in 2018.