Euro dives to 20-mth low as Italians reject PM Renzi's policy
Published time: 5 Dec, 2016 09:33
Edited time: 27 Aug, 2018 20:05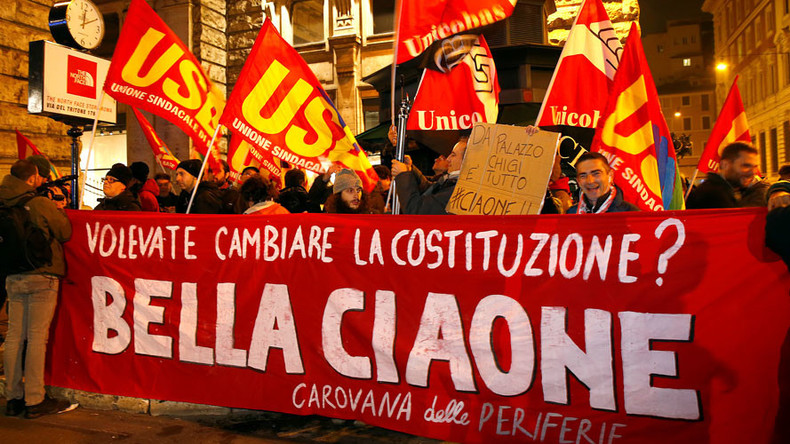 The European common currency plunged on Monday, as Italy voted against constitutional reforms proposed by Prime Minister Matteo Renzi, who is resigning.
The 'No' vote won by 60 percent, and the outcome is seen as a rejection of Renzi and his leadership. Ahead of the referendum, Renzi promised that he would step down if his proposed constitutional reforms were not approved.
The euro slid to $1.051 against the US dollar during early morning trading before rebounding to $1.0647.
Market reaction in Italy has been muted with the FTSE Italia All-Share Index up 0.53 percent after plunging in early trading.
The most immediate concern is Italy's banking sector with the country's major lenders drowning in bad debt.
Shares of the world's oldest operating bank, Monte dei Paschi were down about one percent on Monday, having fallen almost 86 percent this year. Unicredit and Banco Popolare di Milano both dropped about 5 percent in early trading before recovering.
The European markets reacted positively to the results of the referendum with Germany's DAX surging over one percent, the British FTSE 100 was up 0.47 percent and French CAC 40 up 0.52 percent.
Investors say the referendum may kick-start speculation on Italy ditching the euro.
"It's not very hard to see a new election on the horizon, and it's not very hard to see the (opposition) 5-Star Movement taking power with stated aims to either leave the EU, drop the euro, or both," said Mark Wills, head of State Street Global Advisors' investment solutions group for the Asia-Pacific, as quoted by Reuters.
"For Italy, establishing stable governance and a plan to guide the nation is of critical importance given the fragility of the economy, challenging policies and the liquidity problems in the banking system," he added.
In October, Nobel Prize-winning economist Joseph Stiglitz predicted that Italy would leave the eurozone, as "Italians are starting to realize that Italy doesn't work in the euro."
The economist has suggested Europe break up the euro, creating two different currencies for northern and southern member countries.