Crude jumps 7% on OPEC optimism about production cut deal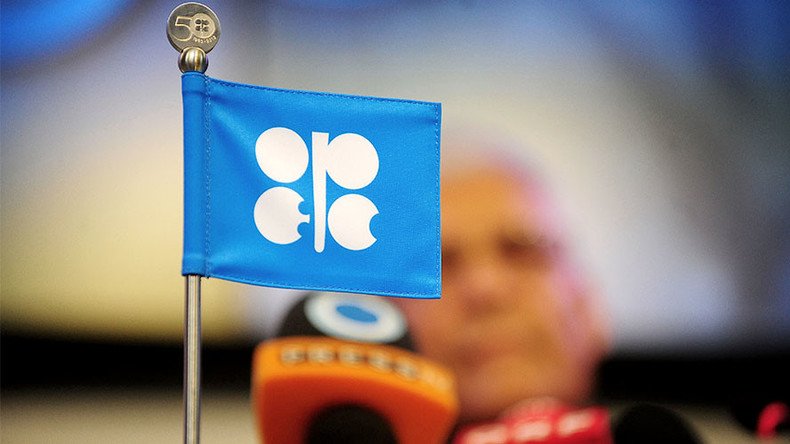 The Organization of the Petroleum Exporting Countries (OPEC) has begun talks on a coordinated oil production cut to prop up prices in an oversupplied market. Despite disagreements among members, top cartel officials expect a deal to be reached.
"There will be an agreement today," an Iraqi delegate said as he entered Vienna's Park Hyatt hotel.
"I'm optimistic," said Iranian Oil Minister Bijan Zanganeh, adding there had been no request for Iran to cut output.
The cartel wants to seal a preliminary agreement reached in September to cut joint production to 32.5-33 million barrels per day (pbd) from the current 33.64 million bpd to support oil prices that more than halved since 2014.
At present, OPEC members are reportedly fighting for every last barrel. According to Reuters, Iran wrote to OPEC saying it wanted Saudi Arabia to cut production by as much as one million bpd, much more than Riyadh is ready to offer the cartel.
READ MORE: Oil prices may plunge to $20 if OPEC fails to clinch deal
As for its own production, Tehran wants to freeze production at around four million bpd, or about 200,000 barrels a day above current output, two OPEC delegates told Bloomberg on Monday. The Saudis want Iran to freeze at the current level of 3.707 million bpd. Algeria acting as an intermediary has proposed a 3.795 million freeze for Iran, the media says.
The biggest producer outside OPEC, Russia, is not participating in the Wednesday meeting, saying that if any deal is signed, it will join soon. Russia pumped 11.2 million bpd in October, the highest volume since the collapse of the Soviet Union. Moscow's willingness to freeze rather than cut has reportedly dissatisfied several OPEC members.
Oil prices are recovering from Tuesday's losses with Brent crude trading over $3 higher peaking above $50 per barrel, with US crude benchmark WTI reaching almost $49.
You can share this story on social media: