Investor who predicted Brexit now dooms the euro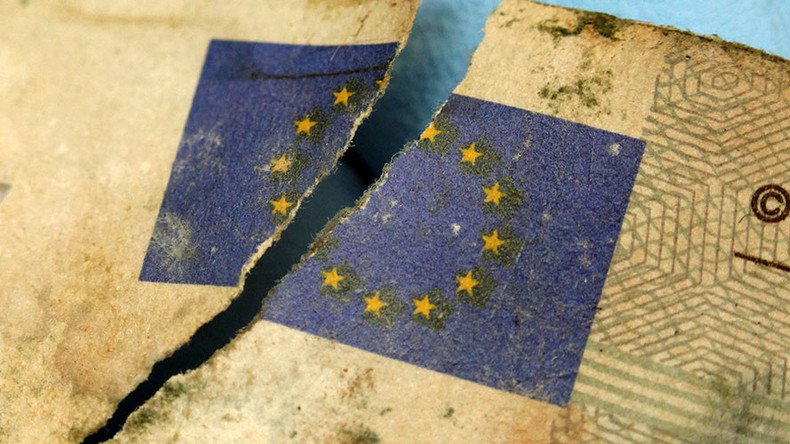 Jim Mellon, the chairman of the Burnbrae Group, was one of a few investors who backed Britain leaving the European Union. Now he predicts a looming collapse of the eurozone.
"Brexit is going to be a sideshow to the problems of Europe that are becoming more and more evident," Mellon told Bloomberg.
"The euro as it stands at the moment is just a very inappropriate mechanism - I give the euro between one and five years of life," he added.
According to the investor, unlike many others, he enjoyed the market bloodbath after the Brexit vote, saying his trades have returned almost 25 percent this year.
Before the British referendum, he predicted pound to drop to $1.32, and the reality turned out to be even worse for sterling.
Mellon said the euro will soon fall below parity against the dollar "sometime over the next year," but warned against selling off the currency now, as it may see a short-term rebound. The euro was trading at $1.059 on Monday.
Instead, he is selling Italian debt ahead of the constitutional referendum on December 4.
"I have been a very big seller of any government bonds this year, anywhere basically, but my favorite are the Italian bonds. Everyone who participates in this stupid bond market should know that there is a serious duration risk. If you buy something for a very long period with no interest rates, you are going to get your head handed to you at some point," Mellon told the media.
The prediction of a eurozone collapse is hardly new. In October, one of the architects of the single currency Otmar Issing said the euro 'house of cards' would collapse sooner or later.
Nobel Prize-winning economist Joseph Stiglitz has predicted Italy and many other members will leave the eurozone in the foreseeable future.
"The people in Italy are increasingly disappointed in the euro. Italians are starting to realize that Italy doesn't work in the euro," he said.
Some of these predictions have already turned out wrong. In 2014, Goldman Sachs gave a 90 percent chance Greece would quit the EU, a forecast the bank retracted this year.
You can share this story on social media: