Washing machines making clean work of Russian exports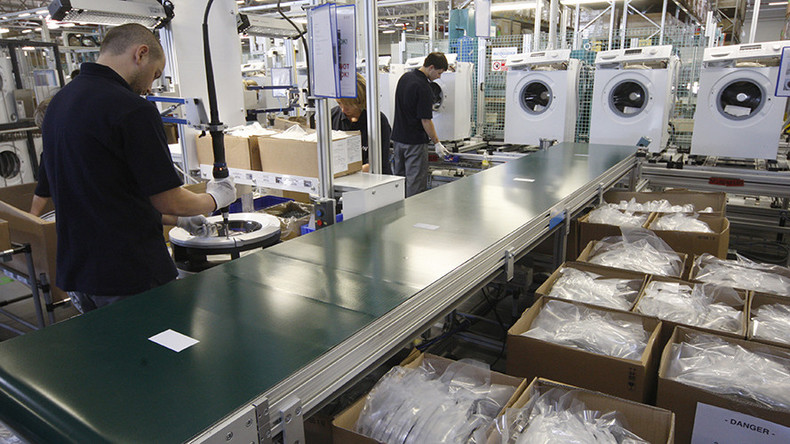 A weak ruble and cheap labor have made Russia one of the world's biggest exporters of washing machines, according to the Russian export center. In the past principal buyers were ex-Soviet neighbors, exports have now shifted to the West.
"Globally, Russia is part of a group of large exporters of washing machines and ranked eighth, ahead of Spain, the US and South Korea," said a report from the Russian export center, quoted by Lenta.ru.
In January-September 2016, Russian exports of household washing machines jumped by 220 percent to a record 934,000 units worth $155 million.
The previous record was seen in 2013 when Russia exported 661,000 machines for $144 million. At that time 75 percent of production was sold to CIS countries (mainly to Ukraine, Belarus, and Kazakhstan), this year 55 percent was delivered to countries outside the CIS.
The main buyers of Russian washing machines are Poland (21 percent of total exports), Romania (10.6 percent), Italy (10.2 percent), Germany, Serbia, Latvia, Hungary (1.5-2 percent each). In the CIS, the primary markets are still Kazakhstan (18.7 percent), Ukraine (13.5 percent) and Belarus (7.1 percent).
This week, Bloomberg reported that Western corporations are pouring billions of dollars into factories and stores in Russia because of cheaper production costs due to a weaker ruble.
French retailer Leroy Merlin will reportedly invest €2 billion to double the number of outlets in Russia, while American food corporation Mars has already expanded to produce chewing gum and pet food locally. Sweden's IKEA is said to invest $1.6 billion into new stores over the next five years.
Since 2014, the ruble has lost half its value against the US dollar due to the collapse in global oil prices and international sanctions following the conflict in Ukraine. In January 2014 you could buy a dollar for 32 rubles, compared to the current exchange of 64.
The Russian economy is expected to see the first year of growth after a prolonged recession next year if oil prices don't fall below $40 per barrel for Russian crude benchmark Urals blend.
You can share this story on social media: