Dollar to catch up with euro by time France elects president – Soc Gen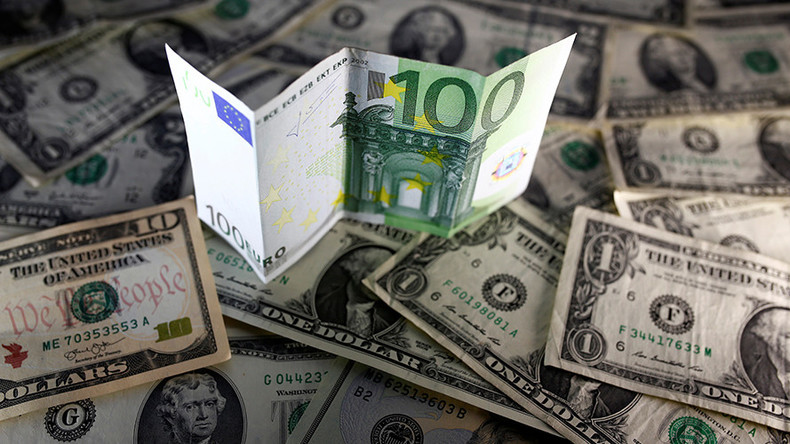 The euro is likely to trade even against the US dollar ahead of French presidential elections in April, according to the Paris-based bank Societe Generale.
The dollar strengthened more than six percent against the euro after Donald Trump won the US presidential election, boosting the greenback to its strongest level since 2003.
On Tuesday, the euro was trading at 1.0621 against the US dollar, and Societe Generale expects the European currency to weaken to $1.00, the lowest in 13 years by March before recovering later next year.
"We expect EUR/USD to fall to a bottom of parity in Q1 2017 before rising back to 1.09 by the end of 2017. The forecast is based on two rate increases by the Fed next year, but this comes with the risk of more," the bank said.
"Before the election of Trump we had anticipated a peak Fed funds rate of 1.25-1.50 percent, but we now look for 1.75-2.0 percent. For the ECB, our economists believe tapering will start in March with the objective of ending asset purchases in early 2018, market conditions permitting," it added.
Societe Generale's foreign exchange boss links the possible euro drop to investors' anxiety following Trump's win.
"Nervousness about the political outlook and potential for yet another populist surprise will keep the euro under pressure," said Soc Gen's Global Head of FX Strategy Kit Juckes.
Other investors note that a possible euro-dollar parity may come about from the uncertainty around Trump's presidency and also a possible interest rate hike from the US Federal Reserve in December.
Fed Chair Janet Yellen said last Thursday that Trump's win will not change reserve policy, and a rate rise is possible "relatively soon."
In November 2015, Goldman Sachs also predicted the euro-dollar parity, but the forecast didn't materialize.