Merkel admits Europe-US free trade deal is dead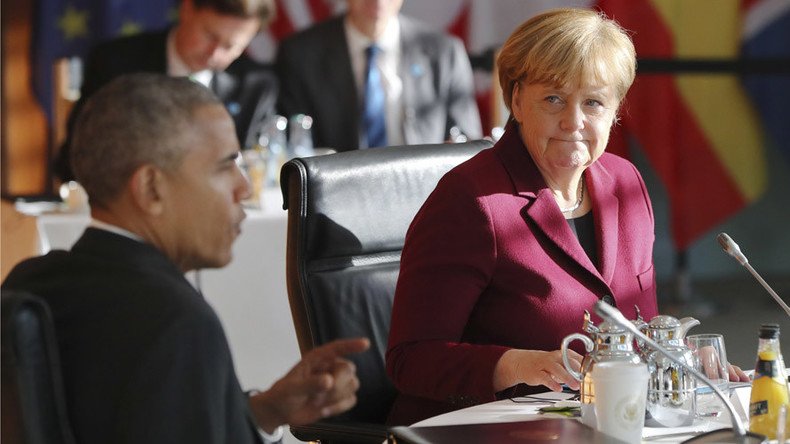 German Chancellor Angela Merkel has acknowledged the EU's new free trade agreement with the US is no longer possible with the election of Donald Trump, who opposes the deal.
"The EU and the US are the two largest trading regions and I have always been very committed to the conclusion of a trade agreement with the USA. We have done well, the negotiations cannot be finished now, but we will stick to what we have achieved. I`m sure we`ll come back to it someday," the chancellor said following the meeting with US President Barack Obama during his valedictory European tour.
READ MORE: Obama on farewell tour says globalization is here to stay

The US president-elect has criticized international trade agreements, campaigning on a promise to scrap them once he is elected. International trade deals take jobs away from American workers and hurt the country's competitiveness, according to Trump.
The European Union and the United States started talks on the Transatlantic Trade and Investment Partnership (TTIP) three years ago. The deal would create the world's biggest free trade market of 850 million consumers.
TTIP met with mass protests in Europe, with opponents arguing the deal would ruin the bloc's standards in key areas as healthcare, labor market, welfare and environment.
READ MORE: Merkel warns Trump against slide into protectionism

A similar free trade deal with Canada, known as CETA, has also met opposition. Over 160,000 people across Germany protested the deal in September.
Both agreements promise to improve trade by lowering tariffs and bureaucratic hurdles and provide a wider base of consumers for goods. But opponents of TTIP and CETA say that only big businesses will benefit at the cost of health and environmental standards. The deals would allow corporations to sue elected governments for policies that affect their revenues.
You can share this story on social media: