Saudi Arabia admits owing billions of dollars to contractors over oil slump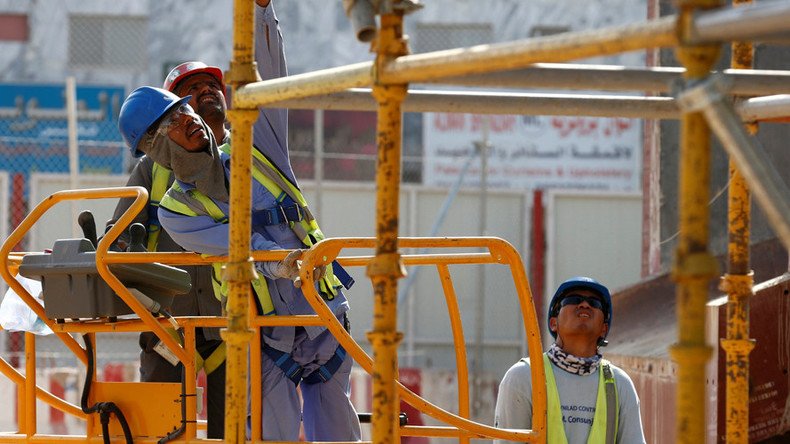 The Saudi Arabian finance minister has admitted billions of dollars are owed to private construction firms and foreign workers following the fall in oil revenue. Workers have been struggling for months without pay.
The kingdom has already paid off 70,000 redundant laborers, but tens of thousands remain stranded and unpaid. It has also suspended new contracts. The Council on Economic Affairs and Development (CEDA) does not expect all the workers to be paid off until the end of the year."I don't recall the exact amount now, but its billions of dollars," said the new Finance Minister Mohammed Aljadaan, according to the Guardian.
"The ministry is now every day seeking to make thousands of payment orders," he added.According to the official Saudi news agency, "the sharp decline in oil revenues and the measures taken by the kingdom to reduce spending on a number of projects" is what led to the delays in payment.
Saudi Arabia gets three-quarters of its revenue from oil. The 2014 slump in energy prices created a $98 billion budget deficit in 2015.
To curb this year's deficit it raised $17.5 billion in its first international bond sale. According to CEDA – which is headed by Deputy Crown Prince Mohammed bin Salman – "a package of solutions" is being prepared to "complete payments of amounts owed to the private sector." The council said the awarding of future contracts has been stopped, as "the scale of spending was not compatible" with returns and development.
These contracts could be worth as much as one trillion riyals ($267 billion).
The government appears to have delayed payments and canceled contracts to offset losses, but in doing so it has sunk many of the country's biggest construction companies into near bankruptcy, including the Saudi Binladen Group and Saudi Oger, which is run by Lebanon's new premier, Saad Haririr. Oger's workers have gone unpaid for months.
The kingdom has spent $1 billion paying off a portion of the stranded Asian workers with Saudi Binladin, according to sources familiar with the matter. This was intended to prevent a labor crisis and help send the workers home after massive layoffs.
The wider strategy of holding back payment and canceling contracts also threatened to have an adverse effect on subcontractors and smaller companies, which in turn threatened the country's banks.
Currently, Saudi Arabia is expected to have a deficit of $87 billion in 2016. According to economist Giyas Gokkent, from the US-based Institute of International Finance, this is around 13 percent of the country's GDP.
But the Saudis aren't out of the woods yet, as more financial maneuvering is expected in view of the oil revenue decline.This may mean further "rearranging priorities of spending", according to their significance and efficiency. Recommendations are also being made to include better oversight of new contracts to help the country curb its reliance on oil, something the government says would help save "tens of billions" of dollars.
You can share this story on social media: