Global markets in green despite widely-predicted collapse after Trump win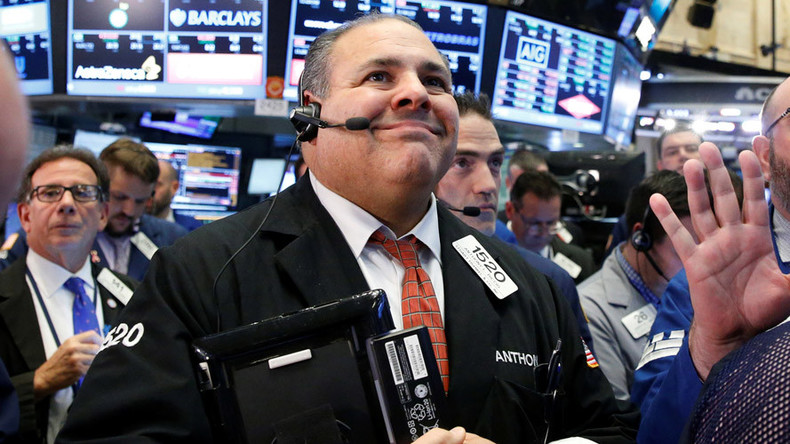 While many analysts forecast inevitable market collapse if Donald Trump won the US presidential election, share prices are rising from America to Asia. Some say the immediate selloff after the election results was a snap decision.
All the key US indices - the Dow Jones Industrial Average, the Nasdaq Composite and the S&P 500 - closed over one percent up in the very first session after the election. Many analysts had predicted turmoil should Hillary Clinton lose the election, as Trump was supposed to bring uncertainty to the markets.
Yields on US Treasury 10-year notes jumped to 2.09 percent overnight, the highest since January and the largest daily increase since 2011.
The Japanese Nikkei index finished trading with a nearly seven percent surge after sinking 5 percent on Wednesday.
China's Shanghai Composite closed 1.37 percent up, while Hong Kong closed two percent up. Australian stocks soared 3.3 percent in the largest daily rise in five years.
Germany's DAX and Britain's FTSE 100 were up more than a half percent. The pan-European STOXX 600 was up 1.3 percent, at its highest level in more than two weeks.
In Russia, the dollar-traded RTS Index was up 1.8 percent, and the ruble-denominated MICEX was trading one percent in the green.

"Investors are puzzled with their emotional investment decisions. They were risk averse yesterday, then after seeing Americans were optimistic and chasing the market higher, they wasted no time reversing their positions," said Takuya Takahashi, a strategist at Daiwa Securities in Tokyo, quoted by Reuters.

"Some of the investors must be thinking that they shouldn't have sold after all," the analyst added.

"An astonishing turnaround in risk appetite pushed equities and Treasury yields higher. Markets appeared to reassess the economic outlook under Trump, toward one of higher growth and higher inflation," said Imre Speizer, an economist at Westpac.
You can share this story on social media: