Monte dei Paschi trading suspended after 23% stock plunge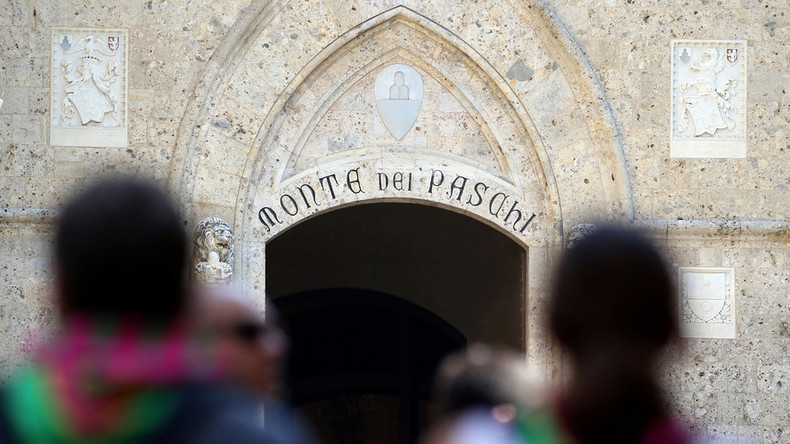 Shares in Italy's Monte dei Paschi di Siena bank have been temporarily suspended from trading after a 23 percent price drop. This followed the stock's initial rally on Tuesday after the bank announced its latest plan to secure survival.
The world's oldest bank said it will cut 2,600 jobs, close 500 branches, sell off bad loans and raise capital.
The bank announced the plan on Tuesday after posting a €1.15 billion loss in the quarter through September. Paschi employs 25,700 people and has 1,900 branches.
"The relaunch of the commercial business is based on the acceleration of the digitalization process and a higher focus on the retail, small business and affluent channels," the bank said. It "will lead to a sustainable lower cost of risk," the bank added.
The newly-appointed Chief Executive Officer Marco Morelli has been planning to sell €28 billion of bad loans, offering part of the portfolio to Atlante, Italy's bank rescue fund.
Shareholders will also meet on November 24 to approve a plan to raise as much as €5 billion in new capital.
The bank said it targets a net profit above €1.1 billion in 2019 after a vast three-year overhaul.
Monte dei Paschi has been acknowledged as Europe's weakest major bank, according to stress tests carried out by the European Banking Authority. The bank's problems have raised concerns for the broader Italian banking sector.
Over the last 12 months shares in the bank plummeted nearly 74 percent. This year they plunged nearly 66 percent. However, the news about a rescue has stabilized Paschi's shares on the Milan stock exchange in the last few days.
The bank's strive for cash is just weeks before Italy's referendum on Prime Minister Matteo Renzi's constitutional reform. Renzi proposes to reduce the role of the upper house, the Senate, and give more powers to regional governments. The Prime Minister promised to resign if his initiative is blocked. This may bring uncertainty to the bank's rescue.
"With the clean-up loss charged in 2016 the key issue of this plan is that we still do not know who is going to underwrite the cash call," Fabrizio Bernardi, a Milan-based analyst with Fidentiis Equities told Bloomberg.