UK stocks hit simultaneous highs for first time since 1999
Published time: 4 Oct, 2016 14:54
Edited time: 7 Oct, 2016 07:39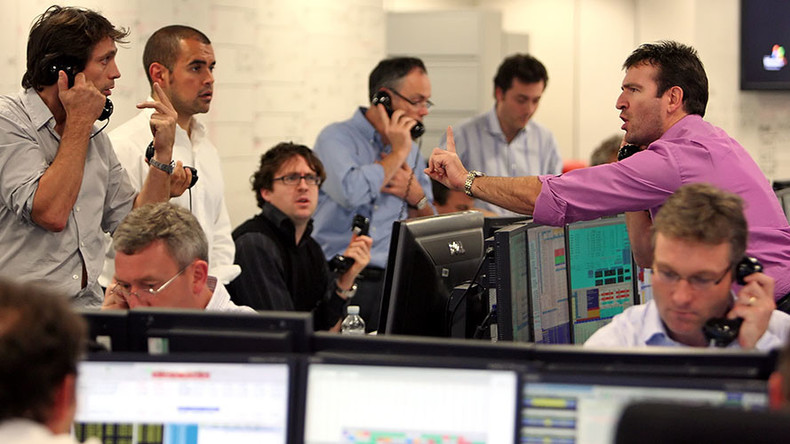 A weaker pound along with stronger than expected economic figures have pushed all UK equity indexes to record highs.
The FTSE 100 blue chip index, the FTSE 250 index of medium-sized companies and the FTSE Small Cap index all hit records on the same day for the first time in almost 17 years.
"We have a really nice combination of sterling weakness, reasonably robust economy and generally not a bad environment for risk assets," said Alan Higgins, chief investment officer at Coutts & Co in London, as quoted by Bloomberg. The economist added that it was a buy UK phenomenon.
The FTSE 100 climbed 1.88 percent by 2:00pm GMT, while the FTSE 250 was up 2.2 percent and the FTSE Small Cap excluding investment trusts index gained 1.8 percent.
The weaker sterling helped UK's megacaps which generated almost three-quarters of their revenue from overseas. The FTSE 250 includes more domestic companies, which gain about half of their sales from Britain, according to JPMorgan and UBS. The measure of smaller shares gets nearly half of its sales from abroad as well, according to JPMorgan Asset Management estimates.
The British pound hit its lowest level against the US dollar in more than three decades on Tuesday after the government announced the country would apply to leave the EU by the end of March next year.
Strong economic data from across industries has brought hope that the economy is coping with the aftermath of the Brexit vote.
"It's more than just a sterling weakness story. Economic data has actually been strong. There is a bit of a catching up here," Higgins said.