Saudis tried to cut secret deal with OPEC – WSJ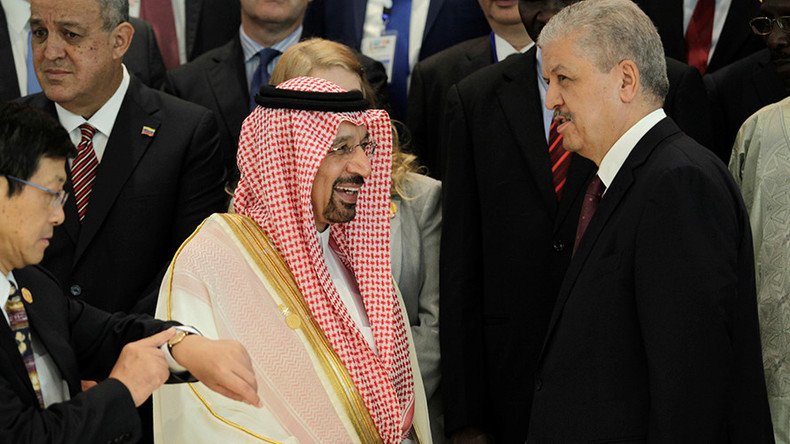 Ahead of OPEC's informal freeze talks in Algeria, Saudi Arabia offered the cartel a secret deal, reports the Wall Street Journal citing people familiar with the matter.
Riyadh reportedly promised to reduce its crude output by 400,000 barrels per day, if Iran would keep production at the current level of 3.6 million barrels.
However, Iranian Oil Minister Bijan Namdar Zanganeh rejected the offer as Tehran plans to return to producing 4.2 million barrels a day, according to the newspaper.
READ MORE: Saudi Arabia puts end to pump-at-will policy

Saudi Arabia has reviewed its pump-at-will policy due to the country's growing economic problems. Riyadh's current position is in stark contrast to earlier this year, when former oil minister Ali al-Naimi claimed the kingdom would survive even at $20 a barrel.
Saudi Energy Minister Khalid al-Falih's attention was drawn to OPEC's forecast that global crude oversupply would persist into 2017, according to people close to the matter.
The prospect suggests potentially longer than expected economic pain from low oil prices for Riyadh, as the kingdom is waging an expensive war in Yemen, and middle-class living standards have dropped.
Aiming to cut costs, the Saudi government has slashed ministers' salaries by 20 percent and abolished public sector perks.
READ MORE: Saudi Arabia cuts ministers' salaries, reduces public sector bonuses

Moreover, the authorities are concerned over the valuation of the state-run oil company Saudi Aramco with projected prices below $50 per barrel next year. Riyadh plans to publicly list the world's most valuable firm in 2018 as part of the economic diversification reforms.
Earlier this week, OPEC agreed to cut oil output to a range of 32.5-33.0 million barrels per day starting in November.
You can share this story on social media: