World trade growth weakest since 2009 financial crisis – WTO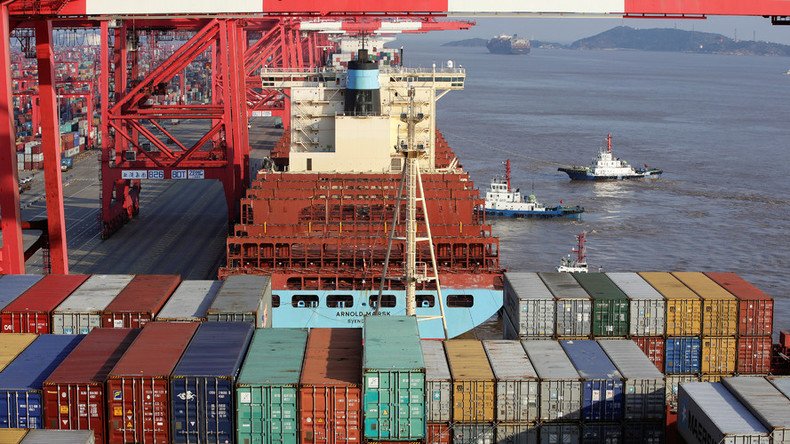 The World Trade Organization (WTO) has cut its forecast for global trade growth this year by more than a third, saying it's the first time in 15 years international commerce will slip below GDP.
According to the WTO, global trade will expand by merely 1.7 percent this year which is well below the April forecast of 2.8 percent.
The forecast for 2017 has also been downgraded. Trade is now expected to grow between 1.8 percent and 3.1 percent, down from 3.6 percent.
"The dramatic slowing of trade growth is serious and should serve as a wake-up call. It is particularly concerning in the context of growing anti-globalization sentiment," said WTO Director General Roberto Azevedo.
Trade has grown 1.5 times faster than gross domestic product over the long-term, and twice as fast when globalization picked up in the 1990s, according to the report.
This year trade will grow only 80 percent as fast as the global economy, the WTO said, adding it will be "the first reversal of globalization since 2001 and only the second since 1982."
The recent run of weak trade and economic growth comes as a result of creeping protectionism as governments trying to shield their own industries and economies are increasingly driven by domestic consumption, the report said.
The downturn in trade reflects the slowdown in countries such as China and Brazil, as well as lower levels of imports into the US.
The WTO's biggest downward revisions on imports from its April forecast came in South America (-4.5 percent to -8.3 percent), the US (4.1percent to 1.9 percent) and Asia (3.2 percent to 1.6 percent). It predicted European imports would rise to 3.7 percent from 3.2 percent.
Export growth in 2016 was downgraded for most regions, with the strongest revisions applied to Asia.
The WTO also said growth will slow in the UK in 2017, but it will not fall into recession.
You can share this story on social media: