EU staff petition Barroso over Goldman Sachs job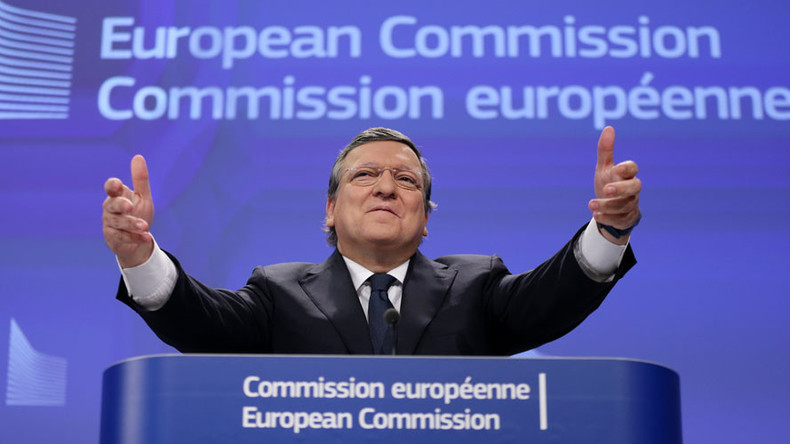 More than 75,000 people have signed an EU staff petition against former European Commission chief Jose Manuel Barroso, calling for "exemplary measures" after he had joined Wall Street bank Goldman Sachs.
The petition was organized by a small group of EU officials, and accuses Barroso of "irresponsible" and "morally reprehensible behavior." They plan to present the petition to the current leaders of the EU institutions at the end of September.
Barroso was Portugal's prime minister from 2002 to 2004, and later served as President of the European Commission from 2004 to 2014, and took up the position of chairman and senior adviser to the international arm of Goldman Sachs in July.
He is criticized for joining the Wall Street bank that helped spark the 2008 financial crisis. Goldman has also been blamed for assisting Greece in hiding its financial situation in order to enter the eurozone in 2000.
Separately, a staff union with 2,000 members has written to the current European Commission President, Jean-Claude Juncker. They criticize the appointment, saying it "can only provide further ammunition for populist and extremist Europhobe propaganda".
EU officials describe the Goldman job as "a disastrous symbol" for the EU and "a gift horse for Europhobes."
President of the Union for Unity Georges Vlandas told the Guardian that when the political future of the EU is in question, senior officials had a responsibility to set an example of ethical behavior.
French politician and the president of the Front National Marine Le Pen has described Barroso's move as "not surprising", because "the EU serves big finance, not the people."
The "scandalous" move showed the EU's conflict of interest rules needed to be tightened, according to France's Europe Minister Harlem Desir.
In July, the French government called on Barroso not to take a job with Goldman Sachs, with some EU politicians demanding he be sanctioned for accepting the new position. They said Barroso's pension from the Commission should be cut when he reaches the age of 65.