Oil surges on possible talks between Moscow & Riyadh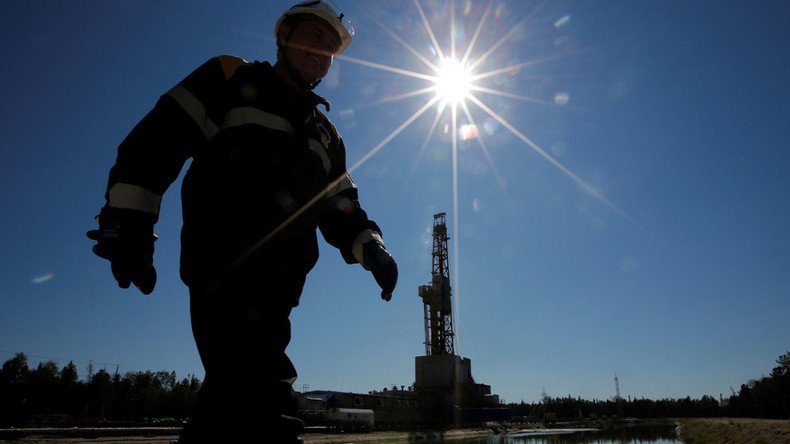 Russian Energy Minister Aleksandr Novak said Russia is considering engaging in talks with Saudi Arabia on stabilizing oil prices. The possibility of a production freeze between the world's largest producers has boosted global oil prices.
"With regard to cooperation with Saudi Arabia, the dialogue between our two countries is developing in a tangible way, whether in the framework of a multi-party structure or on a bilateral level," Novak told Saudi newspaper Asharq al-Awsat.
"We are cooperating in consultations regarding the oil market with OPEC countries and producers from outside the organization, and are determined to continue dialogue to achieve market stability," he added.
The news helped recently slumping oil prices to rally. On Monday, North Sea benchmark Brent reached August highs of $47.61 per barrel, while US WTI crude traded above $45 a barrel.
Prices are rising despite data from the US that shows its oil rigs count continued to grow for seventh week in a row, the longest run since 2014.
A production shortage in Nigeria helped offset the US data, however. Nigerian Oil Minister Emmanuel Kachikwu said the country will not produce more than 1.5 million barrels per day (bpd) this year, as militants have seized important oil facilities. The country used to pump almost 2.5 million bpd.
The Russian Energy Minister doesn't expect the oil market to rebalance next year, while the era of low prices is likely to end by 2017.
Novak's words come just days after Saudi Energy Minister Khalid al-Falih said the Kingdom is ready to kick off talks with both OPEC and non-OPEC members in order to revive oil prices.
READ MORE: Iran's crude exports at pre-sanctions level
Talks on a production freeze between Russia, OPEC, and other oil producers collapsed in April, after Saudi Arabia demanded that rival Iran be included in the deal. Tehran ruled out cutting production at the time, as it aimed to return to its pre-sanction production level of four million bpd.
An informal meeting of the world's largest oil producing countries is scheduled for late September in Algeria.
You can share this story on social media: