Greece's largest port taken over by Chinese firm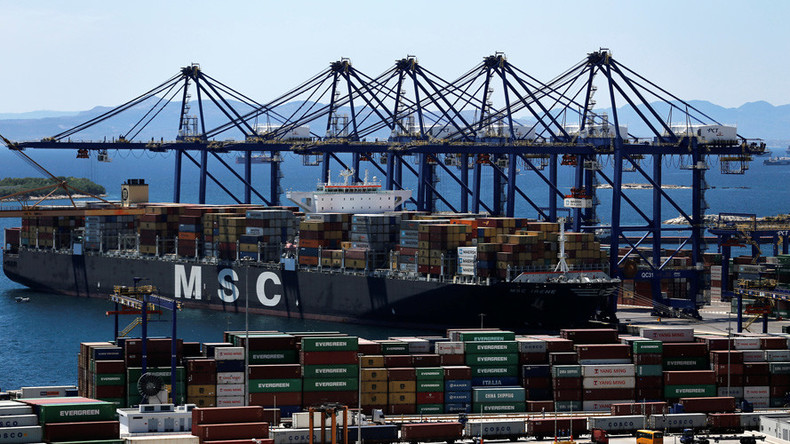 China's COSCO Shipping group has completed the acquisition of a 51 percent stake in the Greek port of Piraeus, becoming the controlling shareholder.
The company has paid $311 million for its major stake in Piraeus and plans to increase its share to 67 percent over the next five years. COSCO thus takes over Piraeus' management and operation.
"The Piraeus project represents a key milestone in the Belt and Road initiative [Beijing's initiative to boost China's transport and trade links with Europe – Ed.], and the port's growth and prosperity will boost economic development both in China and Greece, ushering in a new era of trade cooperation and cultural exchange between east and west," said CEO of COSCO Shipping Wan Min.
The Port of Piraeus is a gateway to Asia, Eastern Europe, and North Africa. It handled 16.8 million passengers and 3.6 million 20-foot containers in 2014.
The chairman of the Hellenic Republic Asset Development Fund privatization agency (HRADF), Stergios Pitsiorlas, said the closure of the deal was "an important moment."
"The cooperation at Piraeus port is not just an economic collaboration but has strategic characteristics. Greece, via the Piraeus port, can indeed become China's gateway into Europe to the benefit of China and Greece," Pitsiorlas told Xinhua News Agency.
The deal to sell the operation of Piraeus port to COSCO was signed by Athens in April, becoming the second major privatization for the country since last year.
The Chinese state-owned company COSCO will pay an annual fee to the Greece for running the port. It already operates the container terminal in Piraeus under a 35-year concession it acquired in 2009. The firm is investing €230 million to build a second container terminal at the port, which it plans to turn into a logistics hub for Chinese exports to Europe.
The sale of Piraeus was part of the demands Greece's creditors had required before a third €86 billion bailout package would be provided, but goes against Prime Minister Alexis Tsipras' pre-election promise not to privatize the country's infrastructure.
Last August, Athens approved a deal to hand over the operation of 14 regional airports to a German company. The 40-year contract worth €1.23 billion was awarded to Fraport AG, which runs Frankfurt's airport.
You can share this story on social media: