Kuwait hikes petrol prices by more than 80 percent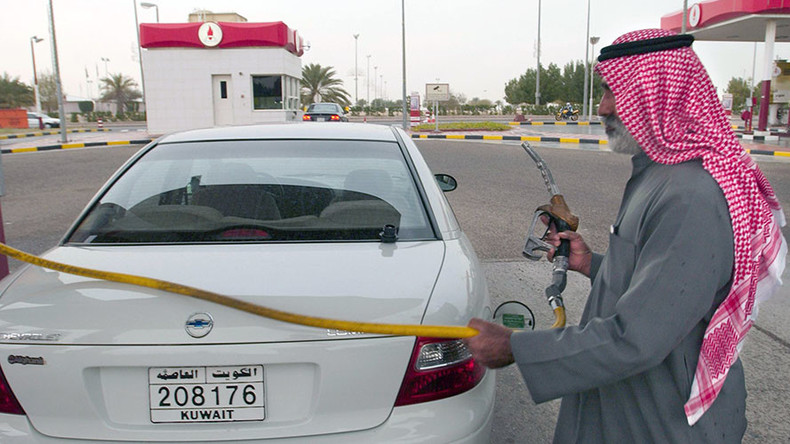 The government of Kuwait is increasing pump prices for gasoline by up to 80 percent starting September 1. The price hike is part of economic reforms aimed at countering falling oil revenues.
By global standards gasoline will still be relatively cheap. The cost for low-octane petrol will go up 41 percent to $0.28 per liter with high-grade petrol rising 61 percent to $0.35 per liter, according to a cabinet statement.
Environmentally friendly low-emission "ultra" petrol will increase by 83 percent to $0.55 a liter.
The increase is the first for the Gulf state in almost two decades. The government has traditionally subsidized energy prices to boost the economy by selling oil products.
Kuwait is the last Gulf Cooperation Council country to raise the price of petrol. Following a sharp decline in oil revenue in 2014, Bahrain, Oman, Qatar, Saudi Arabia and the United Arab Emirates have either completely liberalized fuel prices or substantially increased them.
READ MORE: Riyadh approves post-oil era economic plan

The new prices will be reviewed by a government committee every three month and adjusted to international oil prices, according to the cabinet.
Earlier this year, the Kuwaiti parliament approved a state-sponsored bill to increase electricity and water prices for foreigners and businesses located in the emirate. The law, the first of the kind in almost 50 years, will come into effect in September 2017.
In the past fiscal year, Kuwait reported a budget deficit of $18.3 billion after 16 years of surplus due to high oil prices. The country expects a deficit of $29 billion in the current fiscal year.
Aiming to plug its budget deficit, Kuwait plans to issue $10 billion in US dollar-denominated bonds on international markets, according to the finance ministry. The country will also borrow up to $6.6 billion in debt from the domestic market in conventional and Islamic instruments.
You can share this story on social media: