Brexit fears & grim US data push Asian shares to 1-yr high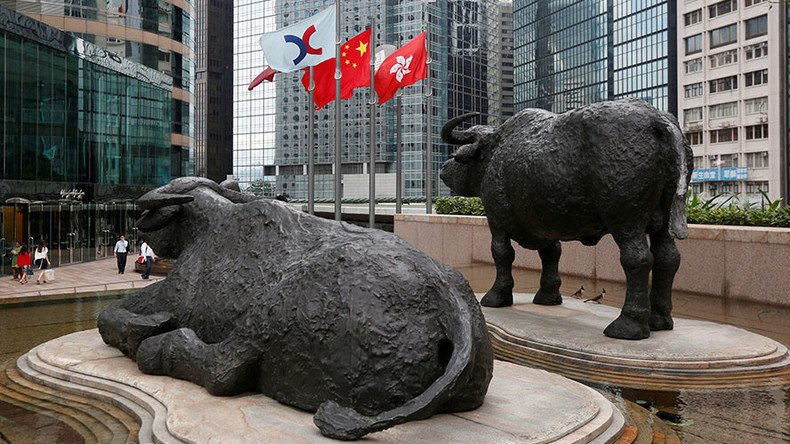 Asia's broadest share index outside of Japan, the MSCI Asia-Pacific, gained 1.3 percent on Monday, culminating its best performance in about a year.
More money is coming into the region, as it is least affected by Britain's possible exit from the EU. Additionally, disappointing economic data makes a rate hike in the US less probable. The American economy grew less than expected in the first half of 2016, propping up Asian markets.
"Investors have been shifting money to Asia, which is likely to be least affected by Brexit and as the US Fed appears to be in no hurry to raise interest rates," Yukino Yamada, senior strategist at Daiwa Securities told Reuters.
The Asian markets are also reacting to the Caixin/Markit Manufacturing Purchasing Managers' Index (PMI) survey, which was up to 50.6 percent, an eighteen month high, from 48.6 percent in June. This was higher than expected. A mark above 50 indicates expansion in manufacturing.
However, a survey from China's statistical office reported factory activity weakened in July to 49.9 percent from the 50.0 level seen in June.
Talk from the US Federal Reserve has convinced analysts a rate hike is not expected in the foreseeable future.
"I suspect the Federal Reserve was hoping for a rebound in the second quarter after a slowdown in the first quarter. The data suggests the economy is still flying low at best," said Hiroko Iwaki, senior bond strategist at Mizuho Securities.
The US economy grew 1.2 percent in the first half of the year, well below the forecast 2.5-2.6 percent. This is adds to concerns that weakness in the global economy and the oil industry crisis are affecting the world's biggest economy more than previously predicted.
You can share this story on social media: