Oil price recovery stalls as US inventories hit all-time high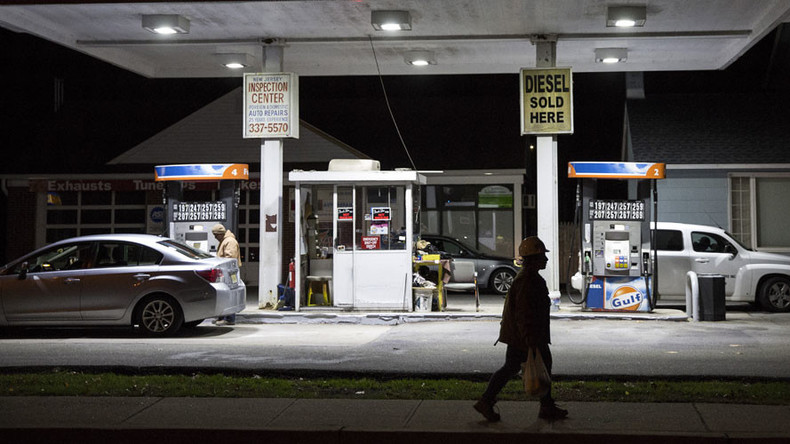 While US crude oil supplies declined for the ninth straight week, the combined inventories of oil and refined products went up to the record 2.08 billion barrels, according to the US Energy Information Administration.
As a result, oil prices slipped with US WTI trading at $44.34 per barrel, and the North Sea benchmark Brent falling slightly below $46.
Crude stocks in America declined by 2.3 million barrels to 519.5 million barrels, still up from the 463.9 million barrels a year ago. This is an historic high for this time of year, the EIA said.
Gasoline stocks grew by 0.9 million barrels to 241 million barrels, the numbers not seen since April.
According to Stuart Ive, a client manager at the New Zealand-based OM Financial, "the continued gasoline builds have led some to speculate that this will lead to builds in crude as refineries cut back on production."
"The market is technically weak, inventories are still high for summer, maintenance season is not far off and we have floating barrels at sea to top it all," Pete Donovan, broker at Liquidity Energy in New York told Reuters.
READ MORE: US oil reserves top Russia, Saudi Arabia - study
ABN AMRO senior energy economist Hans van Cleef warned Brent could fall to the $42-$43 level. "Near-term, there are still some downside risks," he said.
Oil prices have recovered from the decade lows of $27 per barrel in January, climbing as high as $52 in June. While many producers and analysts speculated the crude was set for $60, calling it a fair price, the cost of a barrel has steadily declined since then.
You can share this story on social media: