Russia dominates global wheat market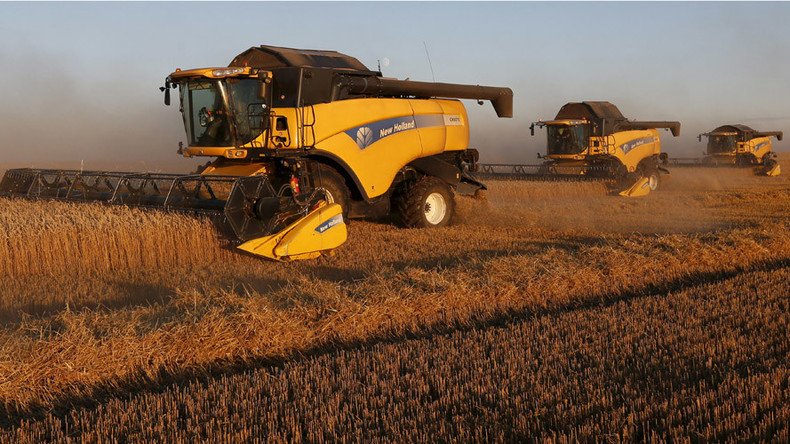 For the second year running, Russia is the world's top wheat producer with exports of 22.5 million metric tons of grain this year, according to the US Department of Agriculture.
Russia has won contracts to exports 120,000 tons of wheat to Egypt. In the fall, as soon as the new crop is harvested, Russia will start supplying wheat to China, according to the Agriculture Ministry.
The country's leading position in the global wheat market is because of its low-price strategy which has increased its market share.
The weakened national currency, favorable weather conditions as well as more investment has pushed forward Russian agriculture and unseated the US as the world's biggest wheat exporter.
The Black Sea region, including Ukraine and Romania, traditionally takes the lead at the start of the season with French exports catching up later.
However, this year France is out of the league of top wheat sellers after heavy flooding waterlogged fields and increased concerns over the grain quality. The soggy fields reduced crops by 17 percent to 34 million tons this season, according to German agriculture consultant BayWa.
"The Black Sea just has so much to sell right now and the quality too is coming out better than expected," Matt Ammermann, a commodity risk manager at US-based financial services firm FCStone told Bloomberg, adding that traders were not even willing to look at French wheat after the harvest delays.
Wheat for loading at Black Sea ports was selling for $165 per metric ton as of Friday, according to the Moscow-based Institute for Agricultural Market Studies. That is at least $15 cheaper than French wheat.
Russia is expected to gain nearly 16 percent of the global market this year compared to 14.4 percent a year ago, according to Kiev-based UkrAgroConsult. France's share will reportedly decline to 11 percent from 12.1 percent last season.
"Russia's position in the wheat market is changing because Russian farmers have received high margins from selling their grains crop of last year, which they have used to invest in better farming and technology," said Sergey Feofilov, the head of the agency, as quoted by Bloomberg.
Experts are positive on Russian wheat production through 2020, citing the weak ruble over the period.
"Russia will thus be in a prime position to compete on volume and price against France, Romania and Ukraine," Alexandre Andrey, an analyst at BMI Research, told Bloomberg.
You can share this story on social media: