Russian economy overcomes recession – Putin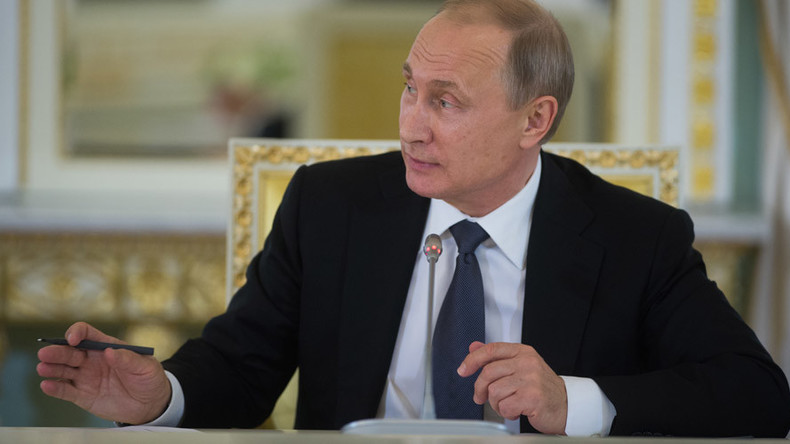 The Russian economy, thought to have suffered significant losses after sanctions were imposed by the EU and US in 2014, is now returning to growth, Russian President Vladimir Putin said on the sidelines of the St. Petersburg International Economic Forum.
Follow LIVE UPDATES on 2016 St. Petersburg International Economic Forum
"We have almost overcome the period of recession and the economy is enjoying all the conditions necessary for growth," Putin said at a meeting with investors and members of the Russian Direct Investment Fund on Thursday.

"The economy has adapted to the new circumstances," Putin went on, adding that the country's macroeconomic situation is stable and the level of inflation has decreased.
Volumes of Russia's gold and foreign currency reserves have remained high thanks to the Central Bank's efforts, the president noted.

"Moreover, after introducing a flexible national currency rate, it [economy] now has competitive advantages," Russia's leader stressed.

"The Russian financial market is one of the most open among the developing markets," Putin said.

Putin praised the Russian Direct Investment Fund for what has been achieved so far and stressed the importance of its cooperation with other countries, including the UAE, Saudi Arabia, and Qatar which shows their trust not only in the fund, but in Russia on the whole.

"Over this time [five years], the fund has made significant progress. It has raised more than 760 billion rubles [over $11.5 billion] for the Russian economy."

The fund has recently received the status of a sovereign wealth fund, which provides it with a wider set of financial instruments and "will give it a more independent and stable character," Putin said, also stressing that the initiative is set to attract investment to Russia.

The 20th International Economic Forum in St. Petersburg kicked off on Thursday, June 16 welcoming political and business leaders from all over the world, who have come to sign new contracts and discuss deals.