Eastern Libya's Russian-printed bank notes raising alarms about unity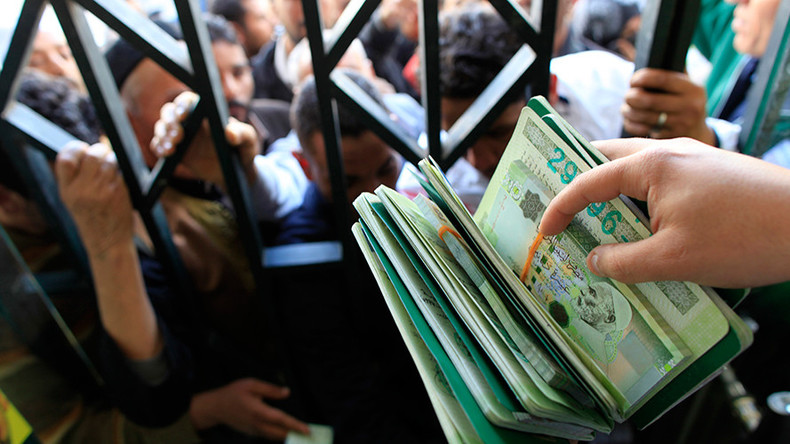 The Central Bank of Libya, established by the unrecognized eastern government, is preparing to circulate alternate national banknotes printed in Russia despite protests from Tripoli.
The eastern Beida-based bank says it plans to put the first 200 million new dinars into circulation by the weekend. Local banks will reportedly extend working hours to meet the demand.
The move has drawn protest from the country's UN-recognized central bank in Tripoli. The official Libyan currency is printed in the UK.
The eastern bank's governor Ali Salim al-Hibri said there would be no conflict with the existing currency. "The printed notes are worth four billion Libyan dinars and are the same size and denominations as the current banknotes," he said in an interview with a local TV channel last week.
Samples of the new banknotes were presented at a meeting of the two Central Banks of Libya and the Presidential Council in Tunis.
The US embassy and Western diplomats in Libya have called the new currency "counterfeit".
They fear the new flow of cash with its own design, serial numbers and watermarks, which might cause economic chaos as well as strengthen the political rift in the war-torn country.
The Central Bank of Libya in Tripoli is recognized as the only financial institution that acts under the stewardship of the UN-proposed government, according to the US embassy.
Libya is in the middle of a long-term liquidity crisis with Libyans reluctant to deposit their cash in banks. The deficit of cash has caused queues and a strict limit on withdrawals to 500 dinars a day.
The political dispute between the UN-recognized Tripoli government led by Fayez Sarraj and the Tobruk-based parliament loyal to General Khalifa Haftar in Libya's east caused a split in the country and its financial institutions.