'El Chapo' Guzman's cartel smelted gold to sneak drug profits out of US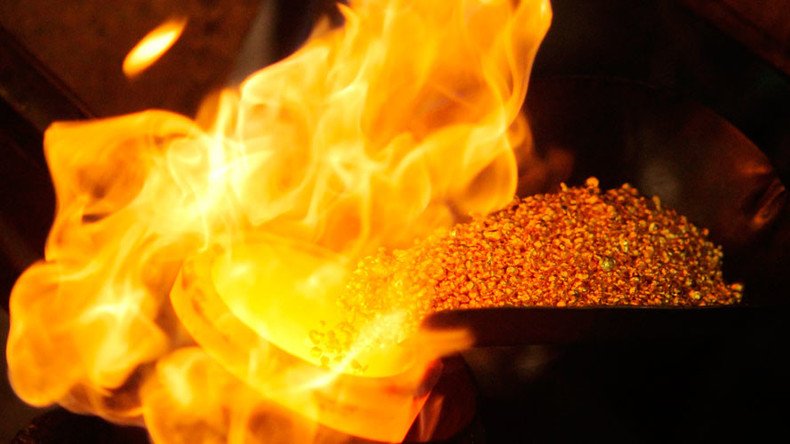 Mexican drug cartels apparently find it difficult to launder money made in the US. Sending cash through banks is more difficult, so 'El Chapo' Guzman's Sinaloa cartel turned its drug profits into a river of molten gold.
The cartel was buying gold in pawn shops, sending it to Florida to be melted down and sold. The money was then sneaked it out to Mexico with fake invoices, Bloomberg reports, quoting court files.
Sinaloa, previously headed by the notorious serial prison escapee Joaquin "El Chapo" Guzman, managed to launder at least $98 million this way.
A Florida company, allegedly Natalie Jewelry, would keep one percent commission and send the rest of the money to companies in Mexico.
The criminals forged invoices so that they would look as if a Mexican company had sold the gold to the company in Florida, which sent the laundered money from gold sales back to Mexico.
Natalie Jewelry came under suspicion after the US authorities spotted a big flow of gold coming through Miami, in a state that produces practically no jewelry.
The jewelry company had already pleaded guilty to conspiring to launder money for a different Mexican drug dealer. The company's owner Jed Ladin was sentenced to three years in prison, while his partner Natalie Ladin was released on supervised parole. They haven't been charged with money laundering for Sinaloa cartel yet.
"If I had a lot of money to launder, I would choose gold. There really isn't anything else like it out there," John Cassara, a former US Treasury special agent who wrote a book about money laundering told the media. Once melted, the gold is extremely difficult to trace.
You can share this story on social media: