US trying to thwart Russia's Nord Stream-2 project - Lavrov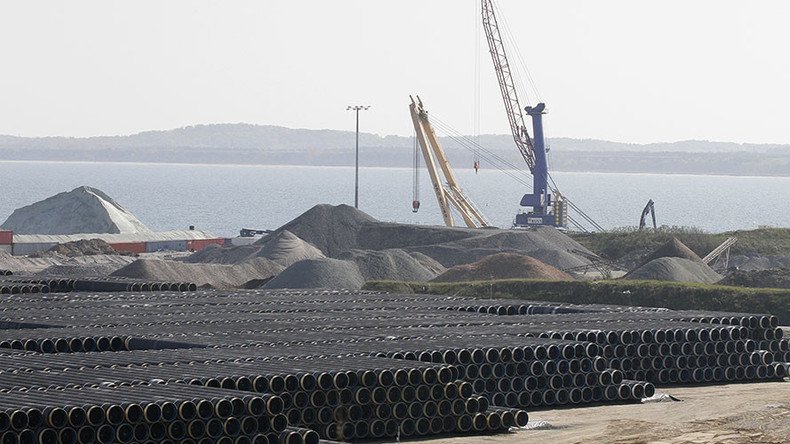 Russian Foreign Minister Sergey Lavrov has accused Washington of trying to block the construction of the Nord Stream-2 pipeline for political reasons. The pipeline aims to deliver Russian natural gas directly to Germany bypassing Ukraine.
"We are convinced that Nord Stream-2 will increase Europe's energy supplies and European energy security. This is a purely commercial project, which brings together a number of Western companies…and attempts to block it are, of course, of an entirely political nature. Americans are engaged in this too, trying to create difficulties through their particularly close friends in NATO," Lavrov said in an interview with RIA Novosti on Wednesday.
The minister explained that Nord Stream is regarded as a priority project by the European Commission.
Also on Wednesday, US Secretary of State John Kerry said Washington is concerned about the Nord Stream-2 gas project.
"This project has provoked a very heated debate on both sides of the Atlantic, and we are convinced would absolutely have an adverse impact on Ukraine, on Slovakia, and Eastern Europe. And we cannot lose sight of that," said Kerry at a meeting with the EU's foreign policy chief Federica Mogherini.
If the pipeline is built, Ukraine may lose its status as a transit country for Russian gas to Europe.
Kerry added that Washington has helped Kiev cut its dependence on Russia for gas. "In the past month, the United States exported our first LNG cargoes around the world, including to Europe, and I just got notice the other day from Amos Hochstein that one of them, I think, has made port. And so this is now a big step forward," he said.
Gazprom is planning to increase gas supplies to Western Europe by building the Nord Stream-2 pipeline. The pipeline will provide an additional direct route for Russian gas to Germany via the Baltic Sea bypassing Ukraine, and be able to deliver up to 55 billion cubic meters of gas per year.
The project has become necessary for both Russia and the EU due to the continuing reliability problem of gas transit though Ukraine. Moscow is concerned about a repeat of the gas crisis in 2006 which left parts of Europe without heat after Ukraine began to siphon off gas sent to the European market.
You can share this story on social media: