TTIP trade deal under pressure in Germany & US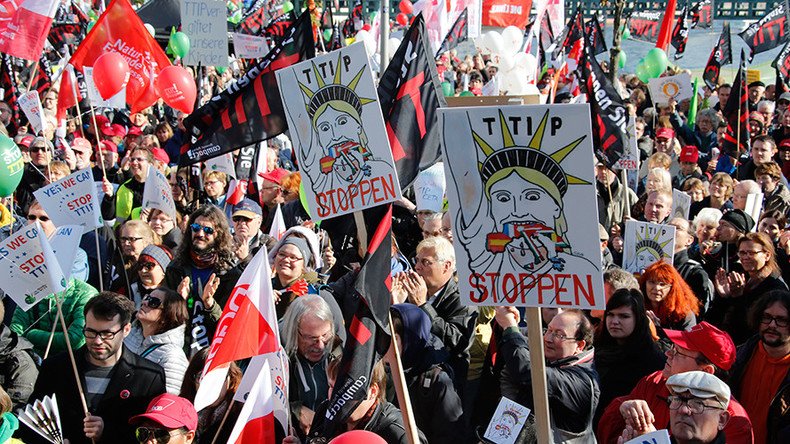 Public support for the transatlantic trade deal between the US and the EU known as TTIP is falling sharply in Germany and the United States, according to a survey conducted by pollsters YouGov on behalf of the Bertelsmann Foundation.
According to the poll, only 17 percent of Germans think the Transatlantic Trade and Investment Partnership is a good thing, down from 55 percent two years ago. One in three Germans (33 percent) are against the agreement completely.
In the United States, only 18 percent of people support the deal compared to 53 percent in 2014. Nearly half of US respondents complained about lack of information, saying they did not know enough about the agreement to voice an opinion.
The survey suggests the Germans' negative attitude toward the TTIP can be explained by their "fear of lower standards for products, consumer protection and the labor market as a result of the agreement."
Almost half of all Germans are concerned about the negative consequences for consumer protection. Only 56 percent view the agreement positively, compared to 88 percent two years ago.
"Support for trade agreements is fading in a country that views itself as the global export champion. Trade is a key driver of the German economy. If it weakens, Germany's economic power as well as its labor market could falter," said Bertelsmann Foundation Chairman Aart de Geus.
TTIP aims to create the largest free trade zone in the world by reducing barriers to trade between the US and the European Union. The trade deal has been strongly opposed by Europeans, with hundreds of thousands taking to the streets in Germany, Belgium and Spain in protest. Activists say the agreement will lower standards across the EU in a range of areas and will harm social, consumer and environmental standards. They argue it will benefit large corporations at the expense of average Europeans. The TTIP opponents are taking an especially harsh stance against genetically modified (GM) crops as the deal could allow for US companies to bypass EU regulations and sell GM products in Europe.
READ MORE: GMO-free zone: Germany tells EU it bans genetically modified crops cultivation
This week German Chancellor Angela Merkel and US President Barack Obama are expected to meet at a trade show in Hanover for talks on finalizing the trade pact.
You can share this story on social media: