Russia 'disappointed' by Qatar oil talks after 'last-minute demands' from Gulf states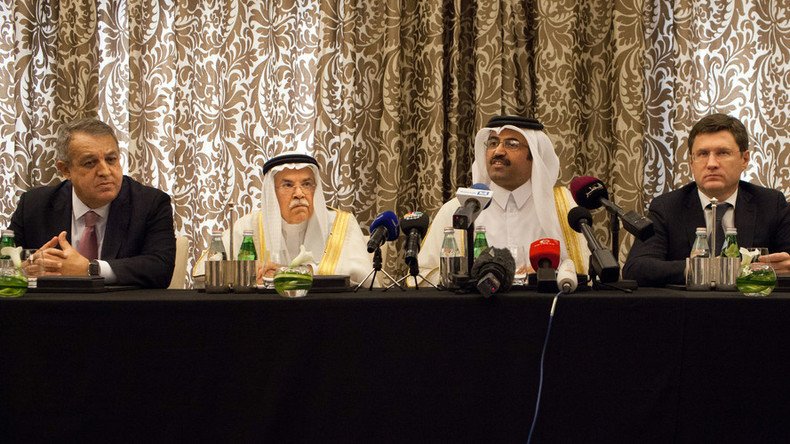 Aleksandr Novak, Russia's energy minister, blamed OPEC states for "undoing two months of negotiations" by presenting demands on the morning of oil production freeze talks in Doha, which ended with no deal having been reached.
Speaking to Russian media following the conclusion of the discussions, which lasted over 12 hours, Novak explained that the 11 OPEC states, and seven outsiders present in the Qatari capital had spent two months drafting an agreement that would cap oil production at January levels, to avoid a further price collapse.
"Some OPEC countries decided to change their terms at the last moment, trying to get concessions from countries that are not here. We were insisting on trying to concentrate on the countries which are," said the official.
Media widely reported that Saudi Arabia was pushing for Iran to also limit its own production, something that Tehran, which has recently been allowed back on the market, following the lifting of nuclear sanctions has rejected out of hand. No senior Iranian delegate was present at the talks, following a last minute decision from the country's leadership.
When asked to specify which countries pushed for Iran to be included in the deal other than Saudi Arabia, Novak mentioned Qatar, UAE, and "predominantly other Gulf States."
Novak said that the summit "did not meet expectations… when you have a deal ready, and then you go back to having heated discussions."
"How can Iran be the reason for the talks' failure, when it wasn't even here?" added Novak. "We believe that the presence of countries responsible for 75 percent of the world's output here was sufficient."
Novak said the failure to reach a deal pushed back the "correction" of oil prices, which are currently at $45 per barrel, by between three and six months, and said the market would now likely recover by mid-2017, and that Russia would be "unaffected" by the Doha failure.
The 44-year-old official did not confirm if Russia, which conceived the price freeze with Saudi Arabia back in February, would attend the next scheduled summit in June, but said that he was "less optimistic" following Sunday's talks.
"Still, we believe that the door is open for future consultations," said Novak.
You can share this story on social media: