Iraq oil output hits record high ahead of production freeze talks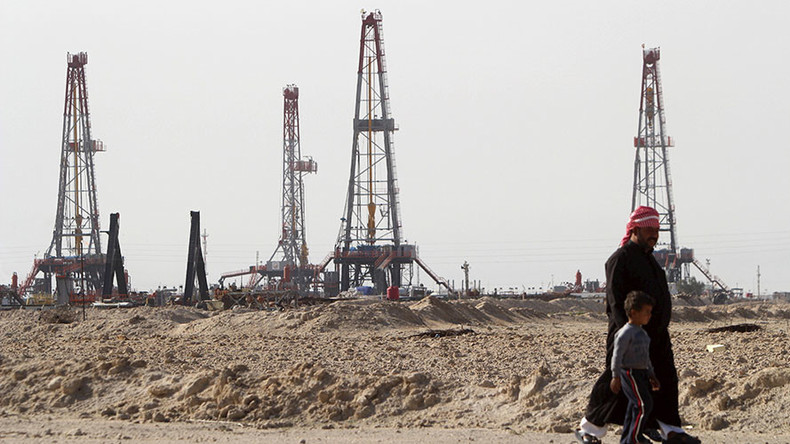 With just a week before crucial oil production freeze talks, OPEC's second-biggest producer Iraq has increased crude output to its highest level in the post-Saddam Hussein era.
Iraq's oil output grew to 4.55 million barrels per day (bpd) last month from 4.46 million barrels in February, Bloomberg reports, quoting the country's state-run Oil Marketing Company.
According to the media, Iraqi oil exports grew to 3.81 million barrels per day in March from 3.23 million bpd in February.
Iraq, which has the world's fifth-biggest crude reserves, is increasing production after sanctions were removed and the war ended. In January, it pumped 4.43 million bpd, which was a record at the time.
The world's biggest oil producers are meeting on April 17 in Qatar to discuss an output freeze. Iraq is believed to support the preliminary agreement by Saudi Arabia, Russia, Venezuela and Qatar to cap output at January levels.
The OPEC governor for Kuwait Nawal Al-Fuzaia said last week that producers could freeze at February levels or an average of January and February at the Doha meeting.
According to Goldman Sachs the talks may turn out bearish for oil prices.
"A production freeze at recent production levels would not accelerate the rebalancing of the oil market as OPEC (ex. Iran) and Russian production levels have this year remained close to our 2016 average annual forecast of 40.5 million bpd," said the report from the US bank, quoted by Reuters.
"We see greater odds that the Doha meeting delivers a bearish catalyst for oil prices... (and) we continue to believe the balancing of the oil market requires sustained low prices with our 2Q16 forecast of $35 per barrel," the report added.
On Monday, the North Sea benchmark Brent traded at $41.69 per barrel, while US West Texas Intermediate crude slipped to $39.44 per barrel.